S.W.E.A.T Pledge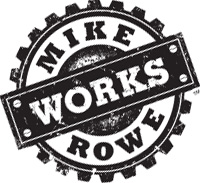 With college on the horizons, it's time to start thinking about scholarships. Usually, scholarships are merit, need-based, or major-specific. And, that isn't helpful for people who aren't looking to continue their education in college, preferring to work their way into the career of choice. There isn't much out there for people who want to go immediately into the workforce.
But, recently, Mike Rowe, the narrator and star of the television show Dirty Jobs, has come out with a scholarship for those who wish to jump into an in-demand career. It's called the Work Ethic Scholarship Program, and to apply, all applicants must sign the Skill and Work Ethic Aren't Taboo (S.W.E.A.T) Pledge. The pledge is a list of beliefs that sum up what it means to be in the work force. Mike Rowe says it's "a 12-point statement of belief that espoused my personal feelings toward work…and its format was inspired by the Boy Scout Law and AA's Twelve Step Recovery Plan. Mostly though, it's a collection of lessons learned from Dirty Jobs that I believe every worker would benefit from embracing, regardless of their job or skill set."
Some highlights from the S.W.E.A.T. Pledge include being grateful for being alive, making every job an opportunity, bringing your passion instead of following it, distinguishing yourself at work by working hard and coming in early, deploring whining and complaining, and understanding that life is not fair. By signing the pledge, you agree that these beliefs are central to your life.
The scholarship itself is for people who "wake up early, stay late, and bust their ass day in and day out" as said by their website. Applicants must sign the S.W.E.A.T. Pledge, provide two references who will "sing your praises," write an essay outlining why they should be considered for the scholarship, submit an optional attendance record because "showing up counts," and record a video to "make a case for yourself." All these together make up the Work Ethics Scholarship Program.
If this "pile of free money" interests you, the deadline to apply is May 19th. Head over to profoundlydisconnected.com for more information about the requirements, or for more information about the S.W.E.A.T. Pledge.