Hollering For the Holidays!
The holidays are right around the corner, which means traditions are going to be making a play. Many people around LHS celebrate Christmas, Hanukkah, Kwanzaa, etc. I wanted to hear everyone's voice on what and how they celebrate. 
I went and asked students what holiday they celebrate, and you may even learn a lot by reading this! The Christmas spirit is shown in many different ways, you can see Christmas lights while you're driving through the neighborhood, decorations of Santa everywhere, Christmas trees with fun ornaments, and that's just a few things you may see. Many students in LHS said that their traditions were watching Christmas movies on Christmas Eve, hanging a mistletoe, and making reindeer food to throw out in the yard. But with all that activity… you've got to get hungry, so what are our fellow classmates eating during the holidays? I asked people what some of their favorite Christmas dishes were and they said it included "Chocolate bark with peppermint candy cane pieces, mashed potatoes at dinner along with some warm ham." Some of my friends around the school said, "Christmas is the best time of the year, we get so excited to dress up in ugly Christas sweaters for parties, Watching the Grinch, and everyone just seems so happy to give and receive gifts within their family and friends."
Although Christmas is very popular, and you always hear "Merry Christmas" or "Santa Claus is coming to town!" … what about the other holidays we may not all know. Well, many people in LHS actually celebrate Hanukkah, I learned about their traditions and wanted to share it with you all… let's get into it. 
Hanukkah starts being celebrated on December 18th to December 26th. It is an eight day Jewish festival of lights. A few students around the school celebrate Hanukkah and I asked them to share their traditions dealing with food, games, and gifts. A fellow classmate stated that " When my sibling and I were younger we did eight days of presents and always said the prayer in Hebrew and lit the candles." Another student said " The gifts we receive are either dreidels, gold jewelry, and the younger children get chocolate coins." Now what type of food is normally eaten during this time? "Well, my mother loves making matzah ball soup, Latkes aka potato pancakes… haha,  and many dishes with challah." 
Kwanzaa is also happening during this time… and what exactly is that and what is celebrated? Well Kwanzaa is a celebration of African American culture during the days of December 26th to January 1st. Sources stated that "Each day of Kwanzaa is dedicated to seven different principles which are: Unity, Self-determination, collective responsibility, cooperative economics, purpose, creativity, and faith." People who celebrate this holiday often have a big feast with others and traditionally wear African clothing. 
I hope this has given you some insight on what happens during the upcoming holidays that you may not all know about, who knows… maybe even some of your classmates may celebrate something different from you. 
Happy Holidays everyone!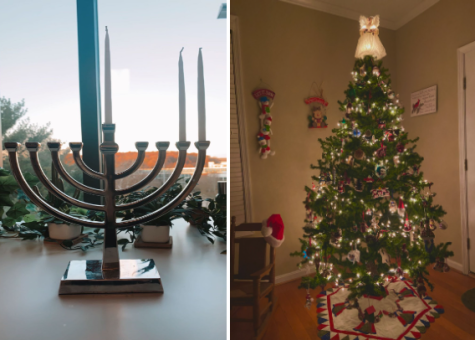 Sources: