Side 1: Christmas Begins When Halloween Ends. Why Wait?
Christmas is a time full of family and friends, joy and giving. It is also a time to show your thanks through the gifts you give. As soon as the spooky season is over, and we hit November, it's time to raise the Christmas spirit. I mean it's only one month until December, so why wait? I know the other side always says " What about Thanksgiving?" Well I know what I'm giving thanks for… CHRISTMAS! I mean what has better music, energy, food, and holiday flicks? Many companies get my memo as they switch over to their Christmas flavors and styles as soon as Halloween ends. Starbucks, Target, and even those car sales ads have already begun getting in the spirit. 
Also, what's more exciting and merry than Christmas, the snow all around, cozying up by the fire with your hot cocoa and new fuzzy socks? Kids are already waiting in anticipation for the big day to come around when Jolly Ole Saint Nick will give them fun presents. It's also a time that encourages kindness and good deeds. Christmas is basically Thanksgiving, but better. It just has more delicious foods, banger songs, and amazing gatherings. I mean would you rather listen to the Thanksgiving Song by Adam Sandler for 4 weeks or go ahead and start listening to All I Want for Christmas by Mariah Carey, Last Christmas by Wham, Underneath the Tree by Kelly Clarkson, and Run Rudolph Run by Chuck Berry. Let's also consider the comfort the holiday brings, the nostalgia and joy a thought of the blissful day brings. So many activities come with Christmas that serve as a wonderful bonding experience for friends and family. Picking out a Christmas tree, decorating, going out to get hot cocoa together, baking Christmas cookies, and watching a Christmas movie cozied up on the couch. 
Some may say that it's too early and they will eventually feel the Christmas traditions are becoming monotonous by the time Christmas rolls around, but this doesn't really show a love for Christmas, I mean if you can get tired of it, are you truly a Christmas fan? I know some of the Thanksgiving enthusiasts are probably silently shaking their heads at these suggestions, but really I'm not trying to take away from Thanksgiving, I'm just saying why not embrace the Christmas season along with it. I mean essentially I am saying why not enjoy the synergy of two holidays with very similar ideas. It doesn't hurt to put up the Christmas tree and listen to "Deck the Halls" as you prepare for Thanksgiving dinner, it just brings more life to the holiday. 
Story continues below advertisement
In addition, I know some people don't celebrate the wonderful holiday of Christmas because at its core it is a religious holiday, but it doesn't mean they too can't partake in the wonderful joys of hot cocoa, holiday cookies, and jam out to the songs on the radio.
In conclusion, as you can see from the mountains of snowy evidence, this jolly holiday doesn't wait for anyone. It is ready to bring joy and merriment to all as soon as Halloween and all its scary tricks are over. I mean come on 12 days of Christmas why not 55? It's the most wonderful time of the year and we could make it just a little bit longer then imagine the happiness that would ensue.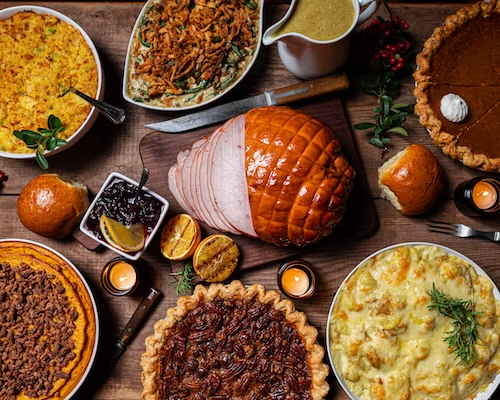 Side 2: Christmas Begins After Thanksgiving, It's a holiday too! 
Thanksgiving is full of  turkey, mouth watering mashed potatoes, and of course you cannot forget about the pumpkin pie. Thanksgiving is a great holiday and simply skipping straight to Christmas looks over this great holiday. Celebrating Thanksgiving is a good way to be thankful for the many blessings you have. Thanksgiving is full of family, friends, and food. It is an excuse to get with the ones you love and share what you're thankful for. It's also a great time to spend time with family and friends. So why do we just rush into Christmas?
Thanksgiving is made of many traditions that can't be pushed aside because of Christmas. For example the Macy's day parade, watching football, breaking the wishbone, running a turkey trot, and other family traditions. These traditions are very nostalgic for many people and bring back many memories of  previous Thanksgivings. We can't just look over these traditions and skip straight to the Christmas traditions. When people start celebrating Christmas and decorating, listening to Christmas music, etc. You forgot about Thanksgiving and their traditions. Which gives Thanksgiving the title of being a "boring" holiday. But if more people gave Thanksgiving the individual time it needed they would see what a fun holiday it is.  These Thanksgiving traditions are what make up Thanksgiving and make it fun. Skipping straight to Christmas traditions looks over Thanksgiving and leaves it overlooked and not celebrated. 
 Christmas can be a stressful time with shopping for gifts, decorating, cooking and cleaning to get ready for relatives, etc. All of these tasks are very stressful.  If you start celebrating Christmas that early then this stressful time is prolonged leaving people tired and by the time Christmas arrives they feel worn out and have less energy for the Christmas season. However if you wait to celebrate Christmas until after Thanksgiving you are energized from Thanksgiving and have all of the energy to truly be in the Christmas spirit!
Thanksgiving is a part of the holiday season and is a very valuable part of the holiday season. Thanksgiving is a great opportunity to have gratitude and be thankful for certain things in your life. It's also a great time to spend time with family and friends. Also to eat some good food! So just remember this holiday season you can still have just as much Christmas cheer celebrating Christmas after Thanksgiving.
Results of An Instagram Survey:
Side 1: 48%
Side 2: 52%
Total People: 73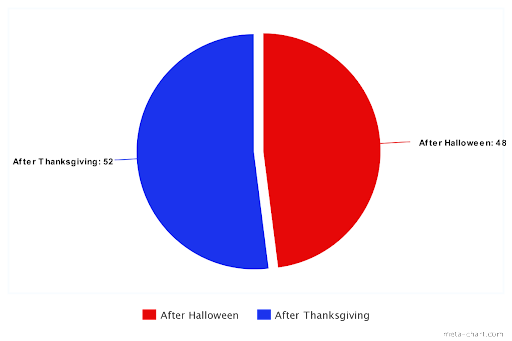 So as you can see it's still a pretty close debate, we'll just have to let you decide for yourself how you feel about it.