Colgate University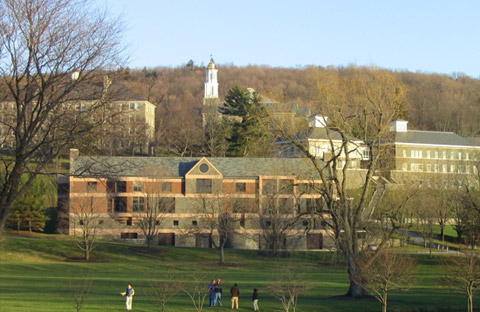 Hang on for a minute...we're trying to find some more stories you might like.
Are you looking for a uniquely located, academically strong and prominent college? Colgate University in Hamilton, New York may just be for you! Hamilton's small town environment is both homely and supportive – an excellent adherent for a competitive and intellectually stimulating college. In fact, the town's population of around 2,500 residents almost exactly parallels the University's population of 2,900; students of Colgate describe the town as simply an extension of the society which the school is. Besides being a major benefactor of students, the town is also central to college life; whether students are involved in community service organizations or are frequenters of Hamilton's movie theater and shops, every individual on campus finds themselves in a harmonious mix of two pleasant societies while attending this University.
                Besides atmosphere solely contributing to an enjoyable student life here, environment plays a key role in academics and opportunity. In a recruit letter, Vice President and Dean of Admission at the University Gary L. Ross stated that "Colgate appeals to students who seek the variety and vitality of a university, but who also value the personal attention, support, and undergraduate opportunities that only a small college can provide." Boasting a 10:1 student to faculty ratio and an average class size of 19, it is no wonder that the school has a 93% retention rate! A total of 52 majors and 9 minors are offered, with the most popular being International Relations. Colgate accepts approximately 33% of all applicants, who are described as "bright, high-achieving, active students who combine wide-ranging academic interests with a commitment to explore their intellectual passions" by Mr. Ross.
                Offering 25 Division I sports teams, 170+ clubs and 515 campus acres, the University charges a rate of $42,625 for tuition. For those interested, it should also be noted that (according to University sanctioned advertisement packets) "Through a generous need-based financial aid program, Colgate meets 100% of the demonstrated need of admitted students." The college encourages applicants, and fuels progress by investing a vast proportion of earned money back into its students. Viewed holistically, Colgate is a top-notch school with top-notch statistics and benefits that makes it a top choice for students all around the country. As a prospective student aimed at success, remember to include this college in your search!