Let's highlight one of our many spectacular student-athletes at Leonardtown High School. Our very own volleyball Raider, Gretchen Elizabeth Brady. She is a 6'2 middle blocker beast who helps lead our volleyball team to success with her athleticism and leadership. She should be highlighted on and off the court.
On the court, she tends to start off the games with the first kills. She sets the tone of a dominant victory by pounding the ball into the floor right at the beginning of the match. In Leonardtown VB vs. McDonough VB, she did just that. The momentum that she started translated to the entire team, Gretchen contributed to a dominant team win for Leonardtown.
Everything Gretchen does spreads to her teammates; energy, laughter, COVID-19, etc. For example, when she got COVID-19 first, seven of her other teammates and coach all got it as well! Seriously though, her energy is infectious. Her teammates continuously remark about her fun-loving positivity.
During the volleyball team's time at California University of Pennsylvania, she was seen carrying around a Taylor Swift doll, singing Taylor Swift, and making jokes. She has the superpower to turn any uncomfortable situation into the best time. Fellow Leonardtown volleyball player Sydney Boyd recounts her freshman year club season, "Gretchen and I barely knew each other. But my mom offered for her to stay with us at a hotel during a tournament and there were only two beds we had to share. Though Gretchen and I weren't close, she never made anything awkward. We laughed and talked all night, jumping on the bed, and running through the halls. She became such a close friend so quickly. Gretchen has this gift to make anyone her best friend. She is so naturally friendly and welcoming."
Story continues below advertisement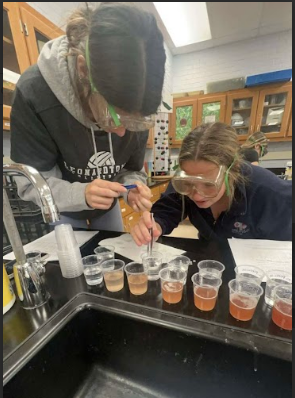 Not only is Gretchen a spirited person but peer Ryan Ludlow describes her as "driven." This is applicable in athletics, academics, and her leadership around the school. She has dedicated her time to helping advise freshmen and informing them about the function of high school as a Freshman mentor. Gretchen wants to help them "live their best high school life". Her involvement and energy around our school is something truly unique and should not be taken for granted.
All student-athletes put in so much time and effort. Gretchen is just one example, even with dwindled time due to athletic and academic commitments, she is still able to make an impact in our community. Thank you, Gretchen!