Southern Maryland Youth Orchestra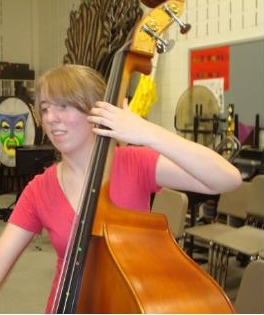 Many students at Leonardtown play musical instruments. Are you one of them? If so, you may be interested in joining the Southern Maryland Youth Orchestra. SMYO is a community orchestra in southern Maryland that invites middle and high school musicians to improve their musical skills.
The Southern Maryland Youth Orchestra began its first season in January 2013 with members who play all types of instruments, including string, brass, and woodwind. One season, the orchestra even had a harp player! The orchestra this year has sixteen musicians and is currently rehearsing on Monday nights at Chopticon High School to prepare for its next concert.
There would not be a youth orchestra as we know it if not for Julia Nichols, the orchestra's president. She first came up with the idea for SMYO in 2011. Ms. Nichols says, " I participated in a youth orchestra when I was growing up, and it was an enriching and fun experience.  Looking at our community, I realized that a youth orchestra would fill a gap – the school programs tend to separate instruments into band and strings, and the local community orchestra (COSMIC) is geared more toward adults.  I began thinking about the possibility of starting a youth orchestra for the tri-county area, and the idea took off when I mentioned it to a friend who immediately wanted to know what she could do to help make it happen.​  We held our first auditions in January of 2013 and have successfully completed 3 concert seasons to date."
The director of the orchestra is Annmarie Karnbach, who is also the orchestra teacher at Chopticon High School. Being the orchestra director for SMYO is something she really believes in. Ms. Karnbach says, "When I was in fifth grade, my orchestra director said,'You need to do something else because I can't help you anymore'. I auditioned for the Junior Youth Orchestra at Baldwin Wallace Conservatory and I started doing that in sixth grade. By seventh grade, I was in the senior orchestra and I played in both groups until I aged out because I loved to play in the orchestra so much. One of the things I wanted to do when I became a teacher was start a group like this to hopefully influence future musicians like a I was influenced."
Both Nichols and Karnbach agreed that being a member of the orchestra is a positive experience for student musicians. Karnbach says, "I think that they [students] would benefit from getting personal performance experience, have longer repertoires, and they would get to play with a group that's not available in most public schools." Nichols agreed, saying, "Students participating in SMYO are able to experience playing with a group in a full orchestral setting.  Musicians benefit from playing with a varied group and hearing how all the parts of a piece are put together… Another benefit to the participating students is that they get a chance to meet musicians from other schools and other counties."
In addition to regular concerts, the orchestra has performed at Artsfest at Annmarie Garden, the Calvert County Festival of Trees, and the Go-Diva SWAN (Support Women Artists Now) Day event to raise money for for the Sidney Wayne Cooper Youth Music Award.
It doesn't matter if a student goes to public school, private school, or is homeschooled; any student can audition for the Southern Maryland Youth Orchestra as long as they are in middle or high school. However, elementary school students are accepted if they can play level four music. The next set of auditions is scheduled for January 2015. There will also be an open rehearsal in early January, where all students are invited to play with the orchestra, no audition needed.
The orchestra's next concert is on November 15th at Chopticon High School at 6 p.m.
There is also a Southern Maryland Youth Choir, which is having its first concert this year, but it is only open to elementary and middle school students.
For more information about the orchestra and choir, go to http://smyorchestra.org/.