Student vs. Staff Basketball Game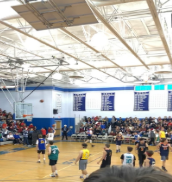 At the end of 2019, we had the student vs staff basketball game! It was a terrific game, with many highs and lows throughout. The game was held in the gym where both teams played off.
The crowd was screaming and music was blasting. Both students and staff where cheering on their team, trying to prove their side superior. Both teams have worked hard these past months, training for this one moment, this one game. Everyone in the gym was waiting for this all week, hype building up since it was announced.  
The game started off a little rough, with some staff and students falling down, but the students ended up scoring first. Afterwards, the game calmed down but continued on, with the students staying strong. The scores were close after the first half, with staff at 30 points and the students at 24. 
During half time, we had a few performances led by the students and staff, with Gracie's Guys and Gals and the LHS dance team performing amazing dances for the crowd. It finally ended with the staff performing their own dance and eventually the two other groups joining in. Overall, it was a great show to watch which everyone enjoyed.
The second half really picked up, with both the staff and students never losing a beat. It was a real struggle for both sides. Both sides played near equally strong, with neither side taking a major lead in the game until the end, when the staff picked it up and won the game with a final score of 54-48! It was an enjoyable game for both staff and students, a great way to end the year of 2019!
The student team consisted of Logan Brock, Garrett Bridgwater, Ethan Ledig, Caleb Novinger, Joe Stanalonis, Kelin Gaddis, Kobe Harris, Will Kurtz, Colton Lewis, Johnnie Caldwell, Manny Solano, Andrew Severson, Will Smith, Mason Hepp, Mark Mattei, Matt Andrasik and Matt Robinson. The staff team had: Mr. David, Mr. Copsey, Mr. Snyder, Mr. Conine, Mr. Kalslavage, Ms. Dyson, law, Ms. Robins. Mr. Fenwick, Mr. Bell, Mr. Adams, Mr. Jimenez, Mr. lachovic, Mr. Guffey, Mr. Schoenbauer, Ms. Butler. The staff team was coached by Matt Bobrowski, Ty Herbert, and Mrs. Mills.