Oh Senior Year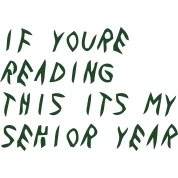 Three years ago, I was starting high school. Though geographically challenged and somehow height-challenged looking up at all the titaning seniors, I was ready to work. I had the fuel to work through the night and late into the morning, endure another day of tests and assignments and activities and homework. Rinse and repeat, robotic and indomitable. And yet, a senior now, I struggle to get out of bed in the morning in spite of having little homework the night before. Oh sure, with four AP classes there are spurts of work but one's last year in high school has a way of simmering down. Drained of the bulk of my motivation now that I am on the verge of graduation and college, I wonder how I ever had the energy to survive so many years of strain.
To make matters worse, I remember wondering years ago how anyone had senioritis. There was no way I was going to lose my drive to work, that I could let my grades slip, that I could neglect my assignments or procrastinate. Ok, I had already broken the procrastination element of that promise by that point but I was sure that I would never come down with the affliction of lazy seniors. And yet, here I am. I have not let my grades slip but my procrastination is at an all time high and my motivation is at an all time low. I find it difficult to start even the most pressing assignments until late into the night. That is, 11:30 when the guilt settles in that I am neglecting my assignments. Even this article has been an effort to produce, waiting well into the quarter to finish my required batch of articles and waiting even longer to edit those of the Imprint staff writers.
I now understand those like senior Katharine Cognard-Black who, when asked about her own senioritis, could only muster "I would describe it to you but I'm so over that." What else is there to say? Should I say that Webster's dictionary defines senioritis as "an ebbing of motivation and effort by school seniors as evidenced by tardiness, absences, and lower grades" in spite of the cliched nature of referencing the dictionary? Should I add that fellow senior Julia Webster says that she is just waiting to "get on with [her] life after this hell hole" and feels "apathetic towards the whole thing"? Should I add that Stephan Petit feels like he is "living in some type of weird cycle" with "no motivation to do absolutely anything in school"? I could, but is it really worth the effort?
I should add, though it really is an effort to do so, that I tried to get a statement from Samuel Schofield, the recipient of the "Worse Senioritis" superlative, but achieving the award says it all. Oh well fellow seniors, only a few months left and, to all other readers "ha! I'll be done before you are!" It's not personal; it's senioritis.