The Addams Family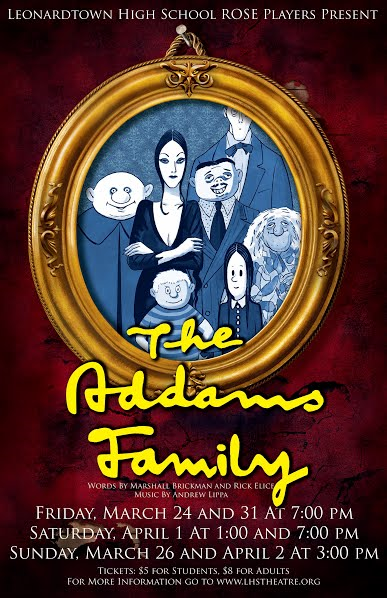 The Addams Family is another hit going up on the ROSE players stage this coming weekend. It is the perfect mix of dark comedy and some, shall we say, spice. The dances are electric, and the leads are talented and hilarious beyond compare. The plot is an interesting twist on the well-known T. V. shows the Addams Family. The show is about a family obsessed with death and gloom and unspeakable sorrow. Of course, it is funny to watch this unconventional family in comparison to a "normal" one from Ohio. This show covers the night in which the two families sit down for dinner. The wrinkle is that Wednesday Addams is in love with the "normal" Lucs. The theatre department has been hard at work making sure the set is convincing enough to capture the drama and verve of this show, even with mobile scenery.
The ensemble is full of some splashy, sometimes sexy dancing dancing. The singing and live pit band is explosive. The ROSE players have really worked hard to bring this show to the public. After last year's success with Legally Blonde, the crew has worked to make a show worthy of the two weekends it is running. Be sure to check out the show on opening night on Friday, March 24th, and again at 31st at 7:00, Saturday, April 1st at 1:00 and at 7:00, And Sunday, March 26 and April 2nd at 3:00.
If the plot doesn't strike your fancy, this year, for the first time, there will be a special dinner theatre event. On Saturday, April 1st from 5:00 pm to 6:00 pm the Leonardtown High School ROSE Players invite you to a "Dinner and a Show" extravaganza. Tickets will be sold for 20$ (to get them go to the Leonardtown High School home page or to www.lhsroseplayers.com and choose the "Dinner and Show" option.) The Dinner will consist of spaghetti and meatballs, fresh salad, and warm bread. Dessert and Beverages will also be available for your delight. Also, you will get a VIP reserved seat as well as a complementary novelty program signed by the cast. One must purchase the tickets before March 28th. A great hang out idea, in a county with like one movie theater (okay technically two, but who's counting the Lexington Movie exchange here.) Bring a date, or just some good friends, or even your family, for a night of good food, and even better entertainment.