Day of the Dead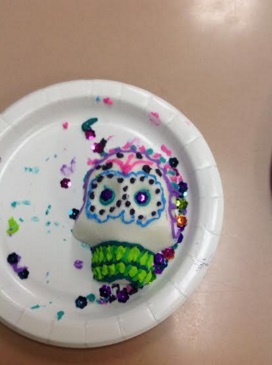 "Day of the Dead" or in Spanish, Día de Muertos- is a tradition celebrated in  Mexico, and both Central and South Americas. It is when family and friends come together to remember their loved ones who have passed away. They guide themselves in their very own spiritual journey. This holiday starts at midnight on October 31st and lasts till November 2nd. According to World Book, this day, "is a celebration that many partake to honor the dead. They create their own altars, laying out offerings, sharing stories about the dead, making food, and both making or buying of sugar skulls. People enjoy visiting, cleaning and decorating their loved ones gravesites as well".
I had the pleasure of talking with Mrs. Russell, who is a Spanish teacher here at LHS. She told me more about this special holiday and how, "Many people whose loved ones have past believe they rise from the dead and return to the living for a one day visit. They feel their loved ones should not only be celebrated in life but in death too."
We are very proud of our own Spanish club here at Leonardtown, who just celebrated the tradition Day of the Dead, by creating and making their own sugar skulls (see photos). Some students of the Spanish Club also celebrated their own loved ones who have passed both honoring them at home and during their time at spanish club. Mrs. Russell reflected on the whole celebration, "It was a lot of fun and the students had a good time."
I concluded my interview by asking if she would want to see this holiday honored as a LHS tradition? In response, she commented that she enjoys it being a Spanish Club tradition as others may not celebrate or understand the meaning of this Spanish holiday.  
Next October if you would want to take part in this tradition, the biggest tradition in spanish culture, you can celebrate this holiday by making art and crafts, cooking food, singing spanish songs, attending church masses that celebrate this holiday or maybe visiting your loved ones gravesites and decorating them with flowers, their favorite things, candles and more.
Contento Dia de Muertos! (Happy Day of the Dead!)