The Life of a Student on Social Networking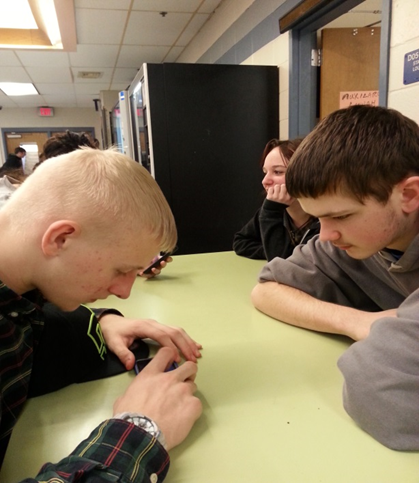 Recently, I have noticed many of my classmates on their phones or computers checking their Twitter, Facebook, or whatever social networking website they are on. Whenever I get on to Instagram I noticed my followers complaining that they have too much homework or that they didn't want to go to school. Whenever I get on to Facebook I noticed that people seem to connect more to other people than they usually do in the real world. I use Facebook and Instagram to check how my classmates, relatives, and friends are doing without any problems. They help me stay connected with them so we don't drift apart. Social networking websites, whether it is Facebook, Twitter, Instagram, or Myspace, are huge and students across the country use them more than ever.
Each social networking website is unique in their own way. With Facebook, you can post your status, share photos, send friends request in order to become friends with someone, and text message your friends in order to stay in touch. It has a timeline that tracks what picture or status you post in chronological order. Twitter is similar to Facebook, but different in that it doesn't have timeline, has people following other people instead of friend requests, and  has a different background color. Myspace is similar to Facebook but it's less popular for students. Instagram is all pictures. Students across the country use three out of four of these social networking websites every day and they are addicting.
I got into the social networking world back in 2011. It all started when my parents let me get a Facebook back in the eighth grade. I was stoked about it. I ended up checking my Facebook every day after school. This continued into my freshman year of high school and it resulted me to procrastinate more than usual. I didn't turn in any assignments late; it's just that I waited until the last minute to do them because I'm always curious on what is going on Facebook so I check it every minute of my spare time.
After I stopped using Facebook for a while, I began using Instagram but, again, I was distracted by it. I checked pictures of people, food, clothes, and more every day. I couldn't resist. Thanks to Instagram, I procrastinated more often than usual so I decided to organize my time on when to use it or not so I can focus on my studies more.
Sometimes it is not always a good thing to use social networking. According to recent studies from the researchers of Miriam Hospital, using social networking all the time can result to lower grades. This has to do with procrastination and turning in assignments late since students are getting distracted by social networking a lot. It can also lead to antisocial and aggressive behaviors because some students spend so much time online that they forget real life.
Sometimes it is actually good to use social networking. It provides tools for teaching that engages students and it helps connect friends and families from far away. It's also a good thing to learn new things about people because they post what they needed to say online rather then what they needed to say in real life. For example, a person having a bad day at school because of other students could post his feelings on Facebook and his other friends would try to make him feel better.
Students at LHS explained their experiences with social networking. RJ McGee, a junior at LHS, said, "Social networking in my opinion affects my everyday life. I have used networking to talk to people in another state. It has helped get me entertained by seeing what all my [friends] have posted." Collin Wenger, a junior at LHS, revealed that, "I use social networking everyday either through Facebook, Instagram, or even Myspace. I can connect to my family across the country or ocean." On the other hand, junior Brandon Conroy uses social networking for entertainment. He says, "I use Twitter and Instagram to have fun. I got them because all the cool kids have them. It doesn't distract me from my work." However, Meaghan Daube, a junior at LHS, revealed the problematic side, saying, "Social networking distracts me all the time from homework. I am always on my phone doing something but I couldn't live without it."
If you're a student who is having trouble balancing a social and online life, then you should set a schedule on when to check your Facebook or Twitter and when to hang out with your friends or do homework. Having an organize schedule makes everything better and easier for a student.
If you're sitting on a bus with your friends, put your phone away and talk to them. You will have better time talking to them then scrolling down through Instagram. If it's study hall period, then do your homework instead of tweeting people so you don't have to worry about it if you get home late.
Social networking is different for everyone and will continue to evolve. There might be more social networking websites and maybe students in elementary school might get into the social networking world. Who knows that it will soon be part of the school classroom or not since it's popular and will continue to grow.