Pardon the Pundit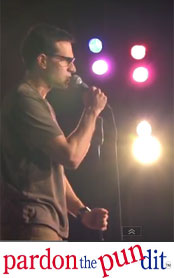 Abigail Crosby, Senior School News/ Student Life Writer
February 24, 2012
On Saturday, February 25th, some of Mrs. Mandis's and Mrs. Page's AP Language students will be visiting our nation's capital. But not to see the White House, Congress, or any of the monuments. They're going to see comedians make fun of the political process.
"Pardon the Pundit (PTP) is a political comedy theater company and political satire publication based in Washington DC. Not affiliated with any party, PTP makes comedic fun of the hypocrisy, absurdity, corruption and self-righteousness that naturally results from our nation's political discourse" (Shakespeare Theater Company). The students will experience 75 glorious minutes of satirical comedy, presented by six professional comedians. What student wouldn't want to go see comedians make fun of politics (and politicians) for school?
Pardon the Pundit will help the students understand satire (a literary technique of writing or art which ridicules its subject, often with humor, as an intended means of provoking or preventing change), which is one of the important devices that AP Language students learn. Mrs. Mandis, the trip sponsor, commented, "This [field trip] is for my AP English class, which focuses somewhat on satire and parody. The performance is political satire. On the AP test in May, students are asked to draw on their knowledge and understandings to write three essays, and this experience could help them with that as well."
The students who are going on this trip are excited as well. Marissa Emmerich, a junior who will be going on the trip, said, "I'm excited for it because it's giving us a chance to go to the city instead of hanging out in St. Mary's on a Saturday. It's giving us something to do that's a little different than usual." Another junior going on the trip, Beth O'Day, commented, "I'm excited to learn about politics through humor, and I'm ready for a fun day with my friends."
The field trip will help the students understand satire, a very important literary device, but it could also help them understand some of the problems with the way our political system works. This trip will be a great opportunity for the participants to learn a lot—about satire and the political system—and have fun doing it.