Will Leonardtown's Baseball Team "Bring the Juice" This Year?
After Leonardtown's Varsity Baseball team lost 8-4 against the Severna Park Falcons, many questions were raised about the future of the program. After not prevailing past the Regional Championship since 2016, change was looming, and that check was cashed. The team was given a sure shake-up after the release of the entire coaching staff soon after the end of the 2021-22 season. This caused waves throughout the baseball program and questions began to arise on if this was the right decision.
The Leonardtown baseball program has been very successful recently. The team has reached the Regional Championship in 5 of the last 7 but has failed to pass that mark since 2016. A brand-new coaching staff was picked for the 2022-23 season except Coach Caldwell, the lone coach kept on the staff. The head coach spot was given to Austin Guy. He attended and played baseball at Shepard University, then was a hitting coach at the university.
When interviewing last year's starting 3rd baseman, Nolan Taitino, he stated, "I am really excited for the upcoming season, the coaching staff is definitely a big shake-up but hopefully all things will come together, and the team can bring the juice and bring home a state championship."
Now what does he mean by "bring the juice"?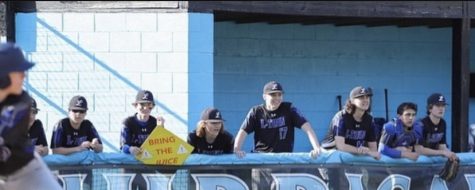 The phrase "bring the juice" is a household phrase throughout the baseball program and it simply means that whenever Leonardtown baseball is on the field, all players must bring energy and drive throughout their game. The phrase is even put on a traffic sign that is taken to each and every game. "It gives a sense of team morale through the hearts of every player", Nolan said. The team even chants it before every game as a tool to hype up the team.
The question now lies, will the new coaching staff be able to carry on this energy and will it combine to bring home a state championship? The team has not won a state championship since 1987 when a team led by Shawn Knott and Wayne Gray overcame the odds and brought home the only state championship for the Leonardtown baseball program. Will new coaching staff lead the players to a state championship? This question still remains unanswered.