The World Says Goodbye To Brazilian Football Player Pelé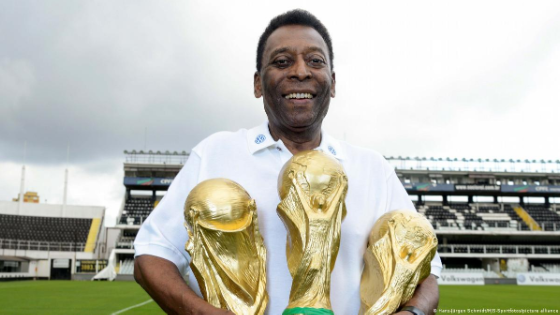 Most Americans don't focus on football outside of the World Cup. But what I can say for most of us is that in the recent World Cup, we see that people have brought up the name Pelé in comparison to Messi and you may be wondering who Pelé is and why was he so important to the world of football? Let's take a look at the improbable life that this world-class football player achieved.
Early Life
October 23, 1940, a date to never forget, the man that would eventually revolutionize the game of football forever was born. Growing up in Brazil he never had much money but what he did have was the spirit to get better at this sport he loved so much. By 1956 when he was 16 years old, he joined the Brazilian national team where he would eventually change the game of football forever.
Time With The National Team
Pelé made his international debut in 1957, and the following year played his first game in the World Cup finals in Sweden.  The Brazilian manager was initially hesitant to play his young star. When Pelé finally reached the field, he had an immediate impact, rattling the post with one shot and collecting an assist. He had a hat trick in the semifinal against France and two goals in the championship game, where Brazil defeated Sweden 5–2. At the 1962 World Cup finals, Pelé tore a thigh muscle in the second match and had to sit out the remainder of the tournament. Nonetheless, Brazil went on to claim its second World Cup title. Rough play and injuries turned the 1966 World Cup into a disaster for both Brazil and Pelé, as the team went out in the first round, and he contemplated retiring from World Cup play. Returning in 1970 for one more World Cup tournament, he teamed with young stars Jairzinho and Rivelino to claim Brazil's third title and permanent ownership of the Jules Rimet Trophy. Pelé finished his World Cup career having scored 12 goals in 14 games.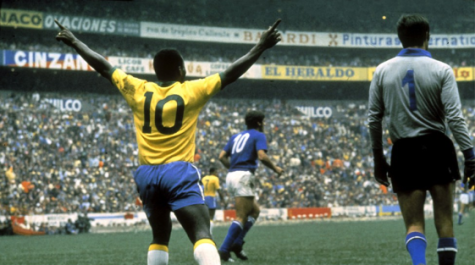 Club Career
In 1956, de Brito took Pelé to Santos, an industrial and port city located near São Paulo, to try out for the professional club Santos FC, telling the club's directors that the 15-year-old would be "the greatest football player in the world." Pelé impressed Santos coach Lula during his trial at the Estádio Vila Belmiro, and he signed a professional contract with the club in June 1956. Pelé was highly promoted in the local media as a future superstar. He made his senior team debut on 7 September 1956 at the age of 15 against Corinthians de Santo André and had an impressive performance in a 7–1 victory, scoring the first goal in his prolific career during the match. In 1969, the two factions involved in the Nigerian Civil War agreed to a 48-hour ceasefire so they could watch Pelé play an exhibition game in Lagos. Santos ended up playing to a 2–2 draw with Lagos side Stationery Stores FC and Pelé scored his team's goals. The civil war went on for one more year after this game. During his time at Santos, Pelé played alongside many gifted players, including Zito, Pepe, and Coutinho; the latter partnered him in numerous one-two plays, attacks, and goals. After Pelé's 19th season with Santos, he left Brazilian football.  Pelé's 643 goals for Santos were the most goals scored for a single club until it was surpassed by Lionel Messi of Barcelona in December 2020. On 1 October 1977, Pelé closed out his career in an exhibition match between the Cosmos and Santos. The match was played in front of a sold-out crowd at Giants Stadium and was televised in the US on ABC's "Wide World of Sports" as well as throughout the world. Pelé's father and wife both attended the match, as well as Muhammad Ali and Bobby Moore.  Delivering a message to the audience before the start of the game—"Love is more important than what we can take in life"—Pelé played the first half with the Cosmos, and the second with Santos. The game ended with the Cosmos winning 2–1, with Pelé scoring with a 30-yard free-kick for the Cosmos in what was the final goal of his career. During the second half, it started to rain, prompting a Brazilian newspaper to come out with the headline the following day: "Even The Sky Was Crying."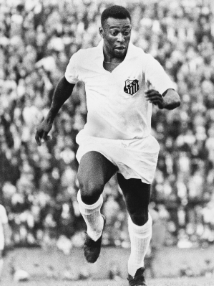 Acting And Singing Career
Pelé's first big-screen moment came in a movie directed by Carlos Hugo Christensen in the same year he won his second World Cup title. The narrative starts at Pelé's native city of Tres Coracoes, talks about his move to the Sao Paulo countryside city of Bauru and then on to Santos, where he becomes a global star. Brazilians are almost as obsessed with soap operas as they are with soccer, and Pelé had many cameos. Most of his appearances were on TV Globo's soap operas, which are often exported to the rest of the world. Author Ivani Ribeiro was the first to bring him to TV soap operas. She cast Pelé in a show named "Os Estranhos" (The Strangers), in which he played the role of a famous writer who lived on an island and had extraterrestrial friends. Pelé's last famous appearance in a soap opera came in 2002 in "O Clone". Music-wise, "Peléginga" was his biggest hit. Recorded with a choir and an orchestra, the samba album included 12 songs written by Pelé and was released in 2006. Three years later, the Brazilian star wanted to record another album for international audiences and invited U2 singer Bono to share the vocals on one of the tracks. The irishman went on tour with his band, however, and the project was abandoned. Pelé also recorded a record with Brazilian diva Elis Regina and released an album that was produced by Grammy-winning singer-songwriter Sergio Mendes.
Life After Football 
The most notable area of Pelé's life since football was his ambassadorial work. In 1992, he was appointed a UN ambassador for ecology and the environment.  He was also awarded Brazil's gold medal for outstanding services to the sport in 1995. In 2012, Pelé was awarded an honorary degree from the University of Edinburgh for "significant contribution to humanitarian and environmental causes, as well as his sporting achievements".  On 21 December 2022, the Albert Einstein Israelite Hospital, where Pelé was being treated, stated that his tumor had advanced and he required "greater care related to renal and cardiac dysfunctions". Therefore, he was not allowed to spend Christmas at home, as his family had wanted. Pelé died on 29 December 2022, at 3:27 pm, at the age of 82, due to multiple organ failure, a complication of colon cancer.  Pelé's death certificate stated that he had died of kidney failure, heart failure, bronchopneumonia, and colon adenocarcinoma. He was survived by his 100-year-old mother, Celeste, who, given her advanced age, was not aware of her son's death. In all Pelé was a generational athlete that stood out among his competition, but, though he is gone, the legacy and impact he had on the game of football, the acting industry for athletes and the civil rights movement will continue to make it's impact on the world as we know it for generations to come…