Jayson Tatum: St. Louis Hero
Jayson Christopher Tatum, 24, is a professional basketball player for the Boston Celtics. Tatum, regarded by most as one of the top players in the NBA, stands 6'8, with a 6′ 10 wingspan, but his reach goes well beyond the basketball court.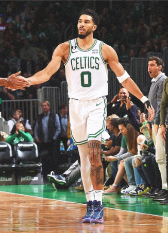 In 2017, Tatum was drafted by the Boston Celtics, in this same year, the Jayson Tatum Foundation was created. Originally helping with hurricane relief efforts, the foundation would pivot towards helping youth in Tatum's hometown, St. Louis. Donating backpacks, coats, school supplies, and toys to children in need has been a priority of Tatum and his organization. Jayson's hometown roots are a staple of his personality, his fame and skill hasn't gotten to his head, and teammates and coaches have described him as "humble", and "diligent". 
Furthermore, the Jayson Tatum Foundation has been supporting a summer basketball camp since 2018. But what impact does this have? The foundation said this "At the Camp, over 100 children learn some of life's most important skills: teamwork, leadership, and making good choices on and off the court."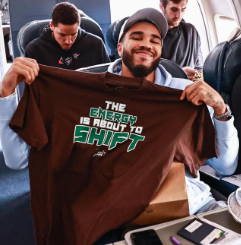 Tatum is also beginning an initiative he calls "S.M.A.R.T.". This acronym stands for Single Mothers Achieve Results Together, the program will focus on single parents who need help with education, physical well-being, financial stability, and more. This hits home for Tatum, who was raised by a single mother, and describes himself as a "Mama's boy". Now a father to his own son Jayson "Deuce" Christopher Tatum Jr, Jayson hopes to be a role model for fathers across the globe, he said "If I am a role model for young fathers around the world, that's great. I think we need more role models like that. Just to have more male fathers be present and things like that, show that you can do both, regardless of whenever you work, whatever your profession is."
But why? Why in Leonardtown is a person like Tatum so important? Well the answer has nothing to do with what basketball team you like, or if you even watch basketball at all. The takeaway here is that we all have something to learn from people like Tatum. In our community it's important to get involved with helping others, and showing compassion no matter how much money you have, how skilled you are at something, or where you're from. 
How do we get involved? While not all of us have the outreach of an NBA superstar, we can all do our parts. Some ways to get involved in our Leonardtown community are simple, and there are even opportunities right here in our school! It can often go unnoticed, but there are plenty of clubs that hold fundraisers and raise money to donate to those in need. If you're interested in getting out there, you should ask around and see what you can do to help your peers. Donating clothes to shelters, volunteering at a local library, picking up trash you find, these are all generous and compassionate acts that you could do right now! Together we can make big differences in our community if we work together!