Boys' Lacrosse Preview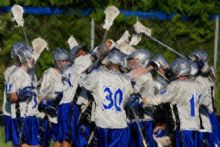 With spring sports right around the corner, boys lacrosse is looking to build on another great season. With a 9-5 record last spring, boys lax is attempting to improve further and contend for a SMAC title. Bart Rogers will be the new head coach, as he is returning once again to Leonardtown. This new head coach will surely bring a fresh look to the structure and play of the team.
The Raiders squad is a relatively young team, deep with talent. Senior defenders Theo Cotsonas and Jack Getty return for their final seasons as Raiders and are hoping to lead this young group to a great season. "I have a great feeling about the whole team this year, Mr. David has trained the younger guys who will be on varsity this year, and everybody looks really eager to succeed," said Getty about the young group. It is clear the younger athletes will be crucial to any success the boys team will have this season.
The team has been very busy during the offseason. For the last 6 months, the boys lacrosse team has been conditioning and training, building up both strength and endurance. This extra practice should definitely pay off for the boys, as they look to win and be on top of their game very early in the season. There should be no doubt this team knows exactly what is expected of them, and will be doing whatever it takes to improve and have a great season. Make sure to get out and support your Raiders lacrosse this spring!