Fall Sports Overview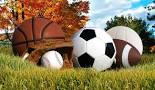 Football:
The Leonardtown Raiders are back on the field for another exciting season. We have the new enthusiastic freshman and the sophomores representing the JV team, similarly there is a varsity team, made up of the juniors and seniors. The football team has also acquired new coaches and managers. The current record for the varsity team is 1-2 with a win against La Plata, with two losses against Lackey and Thomas Stone.  
There are still many games to come for these Raiders, I spoke with one of the new coaches about how he thinks the season is going so far and how it will turn out.
"The season is going well, the team is learning the newer offense and they are starting to build chemistry on the field. We definitely need to work hard and continue to get better. There is a lot of season left and we need to work hard to have a winning season."
The players and cheerleaders need your support, Raider Nation! Come out to the games and cheer them on! Varsity hosts on Northern on September 25th, then are at Calvert on October 1st.   JV hosts Calvert on September 30th.  
Volleyball:
The ladies are back on the court to pass, set and spike their way towards a victorious season. so far their season the volleyball team has had four official games. They have played Southern, Huntingtown, Thomas Stone, and Great Mills, winning against Southern and Thomas Stone, but unfortunately losing against Huntingtown and Great Mills. Their current record is 2-2, but the team anticipates this season shaping up to be an exceptional one. Kyla Hasemeier, a senior on the team, gave us her take on the season thus far, and her forecast for the rest of it.
"So far this season we've taken some pretty tough losses,' she admitted. 'But I think that the team is going to learn from those losses and only train harder to come back stronger."
The Volleyball team goes on a road swing travelling to North Point on Monday,  Calvert on Thursday, then Northern on Tuesday, October 6th before finally hosting Chopticon on Thursday, October 8th.   Come out and support your volleyball team- these lady raiders are looking forward to see some fan spirit in the stands of their games!
Field Hockey:  
Leonardtown's field hockey team is starting the season off strong by Standing undefeated in their games so far. They have competed against La Plata, North Point and Westlake, coming out victorious against each. This team is one of the many teams at Leonardtown that dedicates themselves to working well together to accomplish their goals for the year. Angeleigh Sewell, who affirms that 'the season started off well, we have improved tremendously as it has gone on. As a team, we've got a great group dynamic and are really understanding of how to best play together to get the win."
The field hockey girls work hard for their wins, and they need fans to show that their hard work is appreciated.  The field hockey team travels to McDonough, Ryken, Huntingtown and Great Mills over the next two weeks, before returning home to host Calvert on Friday, October 9th.  
Girls and Boy Soccer:
Our own Leonardtown soccer teams are definitely ones that deserve some major appreciation and recognition. Our varsity boys' soccer team has played four games this seasons so far, and their record is a balanced 2-2. They encourage everyone to come and support the team as they strive to win and leave everything they've got on the field with every game they play. The girls' team has also played some tough competitors, they have a solid record standing of 3-1. Drop by their games to show your support of their hard working effort.
All of our fall season sports teams are representing the school by cooperating well together and putting in their best efforts to play a great and entertaining game each and every time. We thank the players, the coaches, and the staff that sets up the games for bringing awesome skills and opportunity to Leonardtown High School. Here at the imprint we wish all of the teams the best of luck for their upcoming games, check out the soccer teams as they square off with St. Charles on Tuesday, September 29th, Great Mills on Thursdsay, October 1st,  Patuxent on October 6th, then Calvert on October 8th and 9th.