Welcome Mrs. Douglas to Leonardtown High School!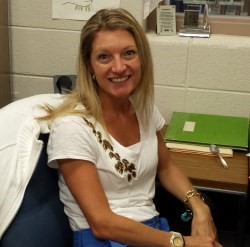 Jessica Trumpower, Senior Staff Writer
September 12, 2014
Mrs. Douglas came here to work with an older group of kids this summer. Mrs. Douglas plans to help out each student which is to meet up with each of them and get an action plan going with the students.  During Mrs.Douglas's free time, she likes to exercise and read books.  Mrs. Douglas spent her summer in New York with her family. The first few days were very busy and she plans to find her whole way around the school by the end of this school year. Mrs. Douglas moved over to Leonardtown High School during the summer time before school began this year.  If any of you who are wondering who Mrs. Douglas is, she is a very sweet woman and very kind and she wants to help out and work with you during this school year.