Showing Our Pride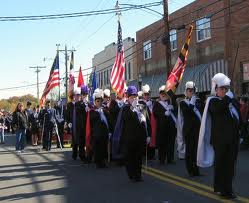 Alexis Ayon, Student Life/News Writer
November 17, 2011
Apart from giving us a break from school, last Friday was a day set aside in remembrance and thanksgiving to all the veterans who have fought or are fighting for the free country we live in today. Early Friday morning there was a Veteran's Day parade in the Leonardtown square. Many students from LHS were involved in the parade, such as those in chorus, band, and JROTC.
Connor Pendleton, a freshman JROTC member, said "I think it's important to show our respect for the people who give their lives for us every single day." Connor is just one of many students who represented LHS and the gratitude we feel for our veterans!
Although some students didn't participate in the parade, they were all touched by the floats and inspiration given by those who did. "The parade made me proud to be an American," said sophomore Nicolas Kernisan. The streets of downtown Leonardtown were packed with people from all over St. Mary's County who felt the same way.