Good Mythical Morning: "Let's Talk About That"

Good Mythical Morning is a YouTube talk show that has gained a large following since it first aired in 2012. The show is hosted by Rhett McLaughlin and Link Neal, the show is a blend of comedy, pop culture, and experimentation that appeals to a wide range of viewers from teenagers to elders.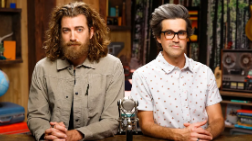 The heart of the show is the two hosts, Rhett & Link, whose chemistry and humor are the driving force behind the show's success. Their casual conversations are often wholesome and engaging, and the main draw to the show is the connection the two make with each other, and their audience.
Every new episode of Good Mythical Morning is centered around a specific theme or topic, with segments ranging from taste tests and challenges, to interviews and experiments. The show's willingness to try new things and take risks keeps it fresh and interesting, and viewers never know what to expect from one episode to the next.
The show has several reoccurring segments, such as the popular "Will It?" where the hosts take an assortment of items and concoct a new food dish (example: Are french fries good in pizza form; "Will it Pizza?"). Rhett and Link have also adventured into the music world, the pair have created numerous comedic songs such as "I'm on Vacation", "My OCD", and more.
The show also features a number of recurring skits that have become fan favorites, such as "Wheel of Mythicality" and "Good Mythical More." These segments add to the show's charm and give viewers a sense of familiarity and continuity from episode to episode.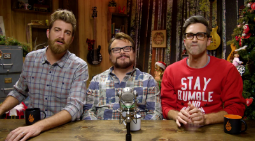 Because of the show's large platform, there have been many celebrity appearances on the show. Usually, the guest will join along in a game, or a challenge. The appearance of a third host adds to the dynamic of the show, and adds a new element of entertainment to the already beloved show. Famous guests that have been on the show include: Kobe Bryant, Megan Fox, Terry Crews, Linkin Park, Jack Black, and many more.
Overall, Good Mythical Morning is a highly entertaining and engaging talk show that has managed to carve out a unique niche for itself in the crowded world of online content. Anyone looking for a breath of fresh air in their morning routine should consider this exciting, funny, and entertaining morning talk show.