What's Up in Washington D.C.?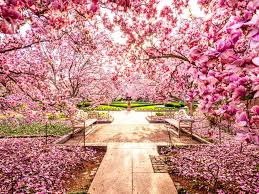 Spring has not quite sprung, but it is prime cherry blossom tree season! The trees have made their appearance quite early. The bloom is one of the earliest according to the Washington Post. This is due to the mild winter the Mid-Atlantic received. March 25 was marked as 2017's day of peak bloom, but you can still catch all the action roughly until the third weekend in April.
Not only are there cherry blossom trees in Washington D.C., but there is a festival dedicated to the trees. This dates back to 1912 when Japan gifted 3,000 cherry blossom trees to the United States. First Lady Helen Taft, and wife of Japanese Ambassador, Viscountess Chinda, planted the first two trees in a simple ceremony, as stated by the National Cherry Blossom Festival website. In precedent to Taft's ceremony, every first lady since then has played a major role in the festival.
Today's festival is nowhere near as simple as the first one Mrs.Taft held many years ago. Today the festival is expansive. The Washington Business Journal reported that in past years the number of tourists visiting the capital for the gorgeous flora festival is around 1.5 million. The trees are located in three spots in D.C.; Tidal Basin in West Potomac Park, East Potomac Park, and on the Washington Monument grounds. This year's festivities are scheduled for the beginning of April. April 1st and 2nd are the Blossom Kite Festival. On April 8th there will be a parade, music, and art showcases from Japanese and American cultures, and the Japanese street festival "Sakura Matsuri." The Anacostia River Festival will be held on April 9 and the Southwest Waterfront Fireworks Festival will be on April 15th. For more information on these events, visit the National Cherry Blossom Tree Festival website.
If you're planning a day trip to attend the festival, you can take a self-guided tour planned by the National Park Service. Another option is to choose from a variety of guided tours listed on the National Cherry Blossom Festival website, which includes boat rides, bus rides, bike rides, and walking photography tours. While visiting, picnics are popular for tourists and great ways to spend time outside and with friends and family.
The best part about the Cherry Blossom Festival is that it is completely and totally free! Tickets are not required and it is open to the public. You can even bring your dog (as long as it's on a leash!). Make sure to head up to Washington D.C. and enjoy the festival while you can!