Whose Race is It Anyway?
There are still 380 days left until the America sees its 45th president elected into the Oval Office, and even longer still until that individual is sworn into office and takes on the official power and responsibilities. Yet, the field of candidates has done no real slimming down. There are a total of 18 candidates still vying for their respective party's nominations: all in a wide span of political affiliations, beliefs, and experience before announcing their runs. Between the debate trumps (no pun intended) and downfalls, varying party types, differing policy points or lack thereof, revolving dropouts and entrants, and the real chances of each candidate being elected, the political referendum has been a muddle of change and perplexity for the average American to keep up with. There's a lot of information out there to comprise, but we've done our best to give a general gist of each below. (For the sake of my fingers and your own reading time, the field of Republican coverage has been shortened to those candidates with more than a 5% chance at winning the nomination).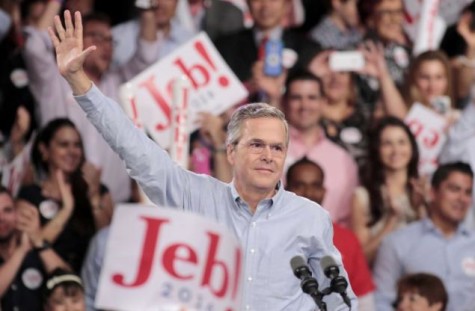 Jeb Bush. Hailing from Florida, this former governor has a solid list of references to back up his run: with a father and brother both having been POTUS- the first Bush administration residing from 1989 to 1993, and the succeeding son commanding for a two-term presidency kicked off in 2001- he's got somewhat of a legacy to live up to. His 1999 to 2007 governorship in Florida gave him some additional insight on leading a government, and his back-and-forth jabs with Donald Trump have placed a brighter spotlight on him in recent months. Notably, he's focused his fight on this immigration battle, pushing for the creation of a legal status, not a path to citizenship, for undocumented residents. He advocates for an assortment of other Republican platforms as well, but is comparatively moderate in those ideals: opposes tax increases, but would not sign a pledge against them; would repeal Obamacare, but replace the act with a "market-oriented alternative"; believes that marriage is to be ordained between a man and woman, but calls for "respect" towards same-sex marriages following a Florida ruling permitting gay couples to marry. According to the most recent NBC News/Wall Street Journal poll, Bush currently stands an 8% chance at cinching the nomination.
(Campaign page link here.)
Ben Carson. "I detest politics, to be honest with you. It's a cesspool. And I don't think I would fare well in that cesspool because I don't think I believe in political correctness and I certainly don't believe in dishonesty." Yet, two years later and the man who has never held an office- more to the point, has never run for one- threw his hat into the jockey for the nomination. Establishing himself as a prominent and well-respected physician, the Baltimorean (either unwittingly or intentionally) proved himself as a conservative media poster child after his politically-charged comments at the 2013 National Prayer Breakfast, in which he criticized President Obama and warned of the perils of "the moral decay and the fiscal irresponsibility" that face the nation. Characteristically soft-spoken at rallies and debates, his stance on the country's most prominent issues are far from such. On abortion? "I am unabashedly and entirely pro-life." On healthcare? "ObamaCare is a looming disaster." Religion? "Keep faith in our society." Gun control? "The right of law-abiding citizens to own firearms is fundamental to our liberty." Whether or not this hard-right stance will win him votes in the booths, that's to be seen. But with a current 29% chance, taking over the lead for the field by 6 points, there is a hope.
(Campaign page link here.)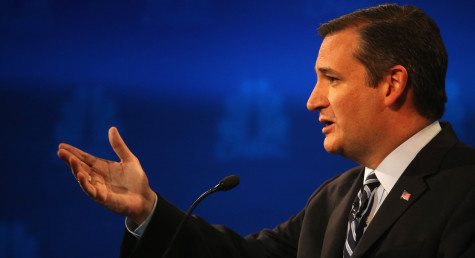 Ted Cruz. Beginning his political career as a domestic policy advisor for George W. Bush's 2000 campaign, the Harvard graduate moved up the ladder to cinch the role of solicitor general for Texas three years later, arguing nine cases before the Supreme Court itself. By 2008, he was elected into the U.S. Senate, and has fought for right-wing issues ranging from repealing Obamacare to our Bill of Rights (more aptly, the First and Second Amendments). Topping the list of his chief policies include religious liberty for Americans, strongly holding to the right to bear arms, a cap on taxes, state and local choice in education, and the American Energy Renaissance Act to "empower the private sector to create more jobs and remove federal impediments to exploration, development, and trade." After an impressive performance at the third G.O.P. debate, Cruz seems to be proving to Americans that although he's not so outspoken or prevalent in conversation as fellow runners Trump or Carson, he could very well be on the track to make his way there. At a 10% chance currently, and almost sure to jump after the most recent debate, continuing on the track he's on may have the Texan headed to the White House yet.
(Campaign page link here.)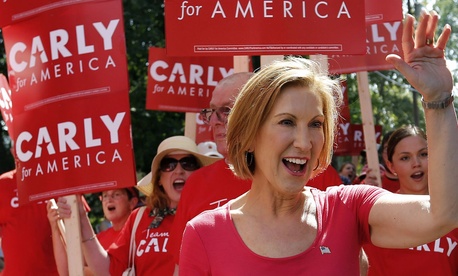 Carly Fiorina. Establishing girl power here? Check. Fiorina made news this past May by announcing her 2016 candidacy (before Ms. Clinton, keep in mind) and has surprised many political analysts by holding her own in the race thus far, after New York Times reporters- and many others- wrote hers off as a "long-shot campaign." However, she argues that "her private-sector background and conservative credentials made her best positioned to capture the Republican nomination." Fiorina is a strong supporter of the Second Amendment; argues for the repeal of the Affordable Care Act and increasing health insurance competition; believes that the Supreme Court overstepped its boundaries in legalizing same-sex marriage (but that gay couples should be granted the right to civil unions and other legal benefits) and would ban abortions after 20 weeks- except in cases of rape, incest, or danger to the mother. Holding a 3% poll in the race currently, the nomination may be far off, but the chance to win it is still within grasp for the women taking on the men in the Republican field.
(Campaign page link here.)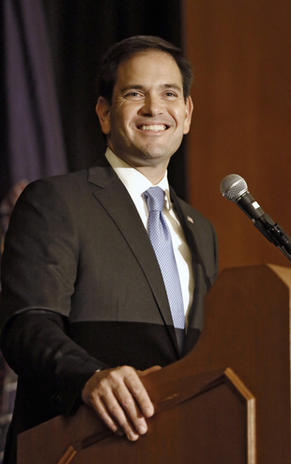 Marco Rubio. Holding strong in third place for the nomination- and as the top candidate who has held a political position before- at 11%, the Cuban-American from Florida has made a splash in the GOP field and has continued to make waves with his quick counterattacks and strong policy points, most notably in the most recent third (and controversial) CNBC debate. He was first voted into Florida's House of Representatives in 2000's special election. He became the first Cuban-American speaker of the Florida House in 2006, and went on to win the 2010 U.S. Senate election, serving into present day. Among his policy focuses are getting a control on spending through measures such as reducing the size of the federal workforce in D.C. and reforming Medicare and Social Security to save the programs for future generations; "restoring foreign power" with a three-pillar plan of American strength, prosperity, and values; and cutting taxes for all businesses by 25% to empower innovators and placing a ceiling on amounts U.S. regulations can cost our economy. Though he may not be pulling the numbers that the illustrious Carson or Trump have been thus far, Rubio has shown through his campaigning and debate points that keeping Washington in familiar hands may be for the better.
(Campaign page link here.)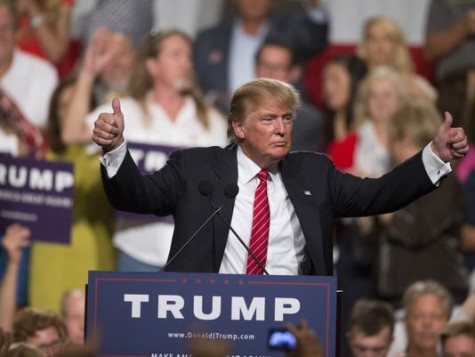 Donald Trump. "I will be the greatest jobs president that God ever created." If it wasn't before obvious, the sheer confidence and aplomb the business mogul has going through this election may just earn him the nomination; it's already gained him the esteem of the larger part of the Republican field. Although he's never before made a run for any political office, the brash New York native has been an early political donor since the early 1990s, giving generously to both parties' campaigns. Trump had before discussed possible presidential runs in the 2000, 2008, and 2012 elections, but had never actually thrown himself into a race- until breaking headlines by officially announcing his entry into that for 2016. So far, Trump has been notably oblique in discussing his proposed plans of action if elected, making massive claims to what he's going to do to "make America great again," but excluding how he's going to get there. He has, however, begun to bring some details about these positions to life. On tax reform, a complete change-over of the tax code and brackets are called for, providing relief to middle Americans. In regards to gun control: "the second amendment to our Constitution is clear. The right of the people to keep and bear Arms shall not be infringed upon. Period." And on the immigration topic that Trump has been so vocal upon? Yes, the plan really is a big wall between the U.S. and Mexico. Paid for by Mexico. Unfortunately for Trump, he's lost his long-held frontrunner title in recent months, as a newly-released NBC/Wall Street Journal poll has his campaign finally falling behind Carson. Is hope lost for the businessman? Far from it. With a tenacity for winning, this candidate is sure to continue in the bid for the White House until the primaries next November.
(Campaign page link here.)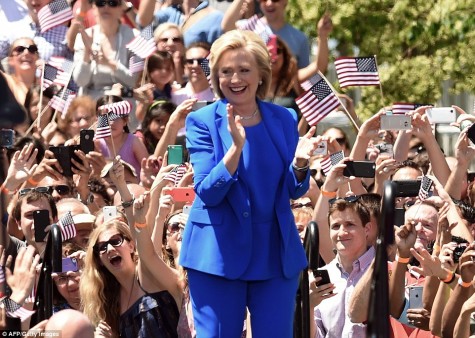 Hillary Clinton. With closer ties to the White House than anyone in the race, the Illinois-native has been around the pony show of the 1600 Pennsylvania Ave. more than once: initially as the first lady to 42nd President Bill Clinton, then later appointed secretary of state to President Barack Obama, serving from 2009 to 2013. This former was accomplished in part to her run against Obama in the 2008 primaries, where she made history for garnering the greatest number of delegate and primary wins of any female candidate in American history. With a strong position on issues, a continuous politically-ambitious streak, and the name recognition and support to back both up, the nomination is looking more and more as if it's explicitly Clinton's to win. In making a second run, her platform has centered on economic security and opportunity for America, with main policy focuses including legal access to abortions, strengthening the Affordable Care Act, comprehensive immigration reform, and a commitment to address concerns over police violence. Although her campaign may sound unerring, her political career hasn't been without controversy: it was in the wake of the deadly 2012 U.S. Consulate attack in Benghazi, Libya that Clinton resigned from her role as secretary. More recently, focus has been on the leak of her use of a private email during her time in that governmental role and the accompanying claims that these were subject to classified information transfers (however, in regards to the former, the hearings last month on such left Clinton largely unscathed, if not in a better place in her campaign). Despite this, WSJ/NBC polls have her at a 59% chance for winning the Democratic primaries; a fact that's not lost on the confidence and rigor of the continuing Clinton campaign.
(Campaign page link here.)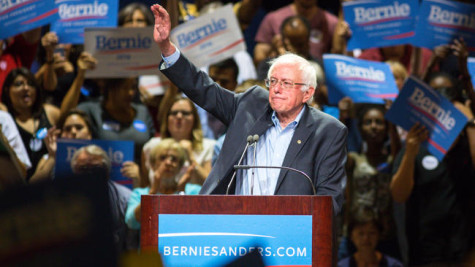 Bernie Sanders. As the oldest candidate in the 2016 presidential race, it's almost surprising the popularity in younger demographics that this Vermont senator has received. When you looks at the majority of his platform issues, though, you realize that many deal with the very real ones facing the 20- and 30-somethings of today: wealth inequality, college tuitions and debts involved, unemployment and the near-unsustainable pay, and the future of the earth in climate change. Beginning his political career as mayor of Burlington, Vermont in 1981, Sanders was then re-elected three times, until being voted into the U.S. House in 1990. It was here that he spent the next 16 years advocating for shrinking the growing income gap, becoming known as the "amendment king" for passing more amendments than any other member of Congress. After winning in 2006, he took a Vermont seat in the U.S. Senate that is held to today Despite identifying as an Independent in party affiliation and being quick to own up as a "democratic socialist" (or, a specific type of socialist who wants public ownership of the means of production- the tools and money to make things- and a democratic political system), Sanders is in fact running on the Democratic ticket and has made waves in the party by pulling in the numbers he has. Initially written off as a long-shot, Sanders had a lead over Clinton in states like New Hampshire for a brief time, and has been in a close(ish) second to the household name for the entirety of the race. Holding a 31% chance in the most recent WSJ/NBC poll, the seasoned politician may just incentivize young voters and sway the Democratic majority to his side yet.
(Campaign page link here.)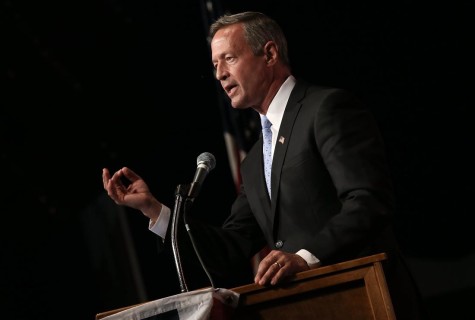 Martin O'Malley. Despite the considerably smaller field of Democrats in the running for the presidency as compared to the right wing contenders, this former Maryland governor has still found a way to remain obscure to the majority of voters- except to maybe the DMV. Jumping into politics and learning the ropes in assisting on presidential and senatorial campaigns, he first took an elected office as the mayor of Baltimore in 1999, serving here until 2006, where he snatched the win for the 61st governor of Maryland. In this position, O'Malley made steps to make sweeping investments and changes to better Maryland economically, educationally, and socially. If elected, O'Malley has rallied behind free trade agreements that create American opportunity, national service to "allow" every American to serve his/her country, gun laws that would cut deaths from gun violence across the country in half within 10 years, and an aim to provide a debt-free public college education to students in 5-years' time. Currently, O'Malley's dreams of adding "President of the United States" to his resume are slim, with a 3% shot at the nomination, but wilder things have happened in campaigns; and if we're finding out anything from this 2016 election race, it's that nothing is out of the realm of possibility.
(Campaign page link here.)
Granted, the voting age is 18, so a portion of our readers very well won't be able to cast a vote in this next election in any case- but that certainly shouldn't stop opinions from being formed or information from reaching them. Your opinion matters, even if it is a drop in the bucket- it certainly adds to whatever collective idea you might be supporting, and can impact not only the party but your own awareness of what's going on in the world. Take the time to view all party platforms- don't put on blinders to your own biases, because you might just find out that there are valid points that you weren't even aware of. And the cliché does prove right: knowledge is power, so don't ever miss an opportunity for information- you'll better not only yourself, but the world in the meantime.