How COVID-19 has Impacted the Way we Shop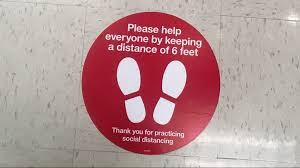 October 2020
Covid has changed many ways that we use to do things, and one of those is shopping. To limit the spread of Covid, the U.S Centers for Disease Control and Prevention introduced a new norm called Social-Distancing, which is maintaining a 6 foot distance between you and other individuals, whether that be shopping or waiting in line.  
The Corona Virus  has also changed how we feel about touching certain things. As many return to shopping, most are very wary about picking up merchandise that others have already come into contact with, like shopping carts, and the buttons on card readers. One way they've fixed that is most stores have a side with clean carts and dirty carts. Of course, the ones that say dirty have been used by other customers, but the clean ones have been sanitized by store workers for everyone's protection.
One other way that stores are protecting customers is by having plexiglass shields at both cash registers and self-checkout registers. For the cash register, it separates the customer from the worker. And for the self-checkout, there's a shield between each customer and register. This really makes others feel safe because it's helping everyone keep a distance while trying to pay for their items. 
Our local Target has Starbucks inside and many customers like to go get Starbucks and then have it while shopping in the store. Well, that has also changed. Customers are no longer allowed to have Starbucks inside of Target because it requires you to remove your mask and in almost every store a mask is required to shop, so if you get Starbucks you must leave Target and drink it. 
The World Health Organization says that the small liquid droplets that come from the mouth or nose from sneezing can be inhaled by anyone standing too close. Stores have also added floor markings that show each customer where to stand while waiting in line. 
In conclusion, traditional shopping habits have been modified. Covid-19 has impacted some many people and many have died or ended up being hospitalized. To slow the spread, stores have enforced these safety habits to keep frequent shoppers safe, but also slow the spread of Coronavirus. So in the future, remember to always carry around a bottle of hand sanitizer, and wear your mask whenever around others.