How to Prepare for College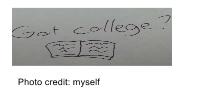 Preparing for college can be stressful and everyone knows that. Many students wait until the last minute to decide to where to go or what to do. It is better to start preparing as early as possible. The earlier you start, the better. If you want to know, here are seventeen steps on how to prepare for college.
Start earning good grades as early as ninth grade. It is easier to earn good grades now so you will not have a hard time bringing them up later. All of your grades count from all four years.
Get involved in extracurricular activities. You do not have to be involved in every single activity. Just choose a few and stick to them. Colleges love to see commitment.
Take challenging courses like honors, AP, dual-enrollment, and IB classes. They can benefit you in the long run and prepare you for the challenge in college.
By the time you are a junior, start researching which colleges you want to go to. Go to a college fair and check out the colleges. Start out with fifteen and narrow it down to five to eight colleges. It is recommended that you visit the colleges so you would know what to expect.
Take the SAT or the ACT. They are college entrance exams that are require for admission. Decide which test is best for you to take. It is recommended that you take the test twice or three times so you will have a chance to bring your scores up.
Start college applications as soon as possible. It takes a while to fill out every one of them.
Still take challenging courses during senior year. Remember that your senior grades still count and if you slack off, then your college acceptance may be revoked.
Have a resume of all of your extracurricular activities ready. Make sure you are truthful with the activities that you did.
Know the deadlines of all of the colleges that you are applying to.
Get started on your generic essay during the summer before your senior year. If any colleges require essays on different topics, then work on those as well.
Get letters of recommendation from teachers and counselors.
Submit your transcripts, SAT/ACT scores, AP scores, college applications, essays, letters of recommendation, and a list of extracurricular activities to colleges before the deadline.
Once you are accepted into college, keep up with your senior grades. Check to see which college requires your mid-year senior grades.
After you are accepted into most of your colleges, narrow it down until you are left with one college to choose from. Do  you want to attend a large university or a private liberal arts college? Does your college have your majors? Does your college have many things to do on campus? Consider these questions when you choose your number one choice.
Deposit the money for the college you want to go to before May 1st.
Once you have graduated, make sure your counselor submits your final transcript.
Attend the college orientation and register for fall classes.
Preparing for college seems a lot of work and time consuming but it will be worth it in the end. Know that many high school students are going through the same thing as you. They have all the same goal as you, which it is to get into college. All of your hard work shall be awarded as you walk across the stage to receive your diploma at graduation.