"Life of Pi"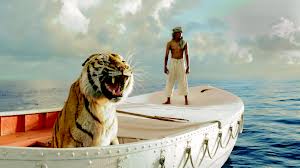 Grace Millerick and Tom Church, Senior Staff Writers
January 3, 2013
Life of Pi is a powerful, emotional tale of survival and victory against the odds, with recurring elements of faith, friendship, and perseverance. With the help of some high-tech 3-D effects, the recent revision of Yann Martel's popular novel has several striking scenes of storms and shipwrecks. There are also very lifelike scenes of animals challenging, killing, and eating each other. Pi, played by Suraj Sharma, is depicted in near-death situations throughout the entire film, however, the story is told as a flashback, so it is known that he will survive. Possibly the most entertaining aspect of the movie is that, after losing his entire family at sea, Pi must negotiate dividing a very small space on a lifeboat with a large, impulsive tiger. But through it all, he stays strong-minded and confident, counting on his sturdy faith to aid him through each challenge he faces.
The story begins in Pondicherry, India. Piscine "Pi" Patel is 15 years old, and highly intelligent. His father owns the Pondicherry Zoo, and due to stressful government disorder, decides to close the zoo and move his family to Canada. The Patels board the ship, the Tsimtsum, which later sinks. Pi is the only human to get on a lifeboat and survive, and must do so with a large Bengal tiger, Richard Parker, for 227 days. It is an incredibly daunting task, and it makes a wonderful premise—but the book deals with larger themes as well. Pi's story is said to have the power of making anyone believe in God.
People who've read the novel and remember it well will notice several slight and unobtrusive differences: for example, there is a scene in the movie in which Pi has a close encounter with an enormous whale, which is not mentioned at all in the novel. Inversely, a portion of the book in which Pi, who is rendered temporarily blind, comes across another man who is coincidentally blind, is removed altogether from the movie. The changes made, however, certainly make for an easily-viewable movie, and makes it easier to follow. Certain things can be told in stories that cannot be explained well in movies.
Comments from peers are overwhelmingly positive. Erica Csuy, who read the story for her AP Literature class over the summer, says "It's fantastic! It follows the book as much as is to be expected and really brings the story to life." There was a feeling among some that the movie would not do the book justice, and apparently it has.
Altogether, the movie has made a good name for itself in the box office: it's made twice the amount it was originally expected to make, coming in fifth place currently at $22 million. Much of this success has been contributed to word-of-mouth, the Rolling Stone claims. Another part of it may be the 3D surcharges that "Oscar fare doesn't usually get to exploit."
All in all, there is definitely a strong fan base that has been garnered since its release. The International Movie Database gave the movie an 8.4, and Roger Ebert with the Chicago Sun Times called the movie "a miraculous achievement of storytelling and a landmark of visual mastery." The movie based on the book that many thought unfilmable, he says, has proven to be "a triumph over its difficulties." He goes on to say that he has decided it is one of the best films of the year.