Dark Shadows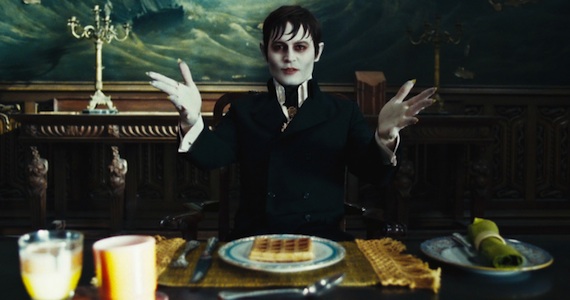 As a young boy, Barnabas Collins (Johnny Depp) lived a very privileged life. His family runs a very successful fish and canning business in Liverpool, England; when he was young, Barnabas and his family moved to Maine in the New World (America) to expand the family business even more; and expand they did when the family business founds the Collins a small town of their own, Collinsport.
But while all of this good is happening, Barnabas does bad; he breaks the heart of Angelique, who just happens to be a witch. After killing his parents and making his love throw herself off a cliff, Angelique turns Barnabas into a vampire and locks him in a box and buries him for two centuries.
When Barnabas is dug from his dirty prison in 1972, he finds the family business in ruins; and his dysfunctional family faring no better. And what's worse, the evil witch Angelique has founded her own fishing and canning business Angel Bay, which has taken over Collinsport and has all but ruined his family's precious fishing and canning business.
It is now up to Barnabas to restore his family and the family business to its former glory; also to defeat the evil witch Angelique before she can destroy Barnabas, his family, his business, and his new love Victoria.
This movie is filled with mystery, some horror, and, of course, comedy. I myself thought the movie was good and that anyone who a fan of Johnny Depp or Tim Burton (or both) should put Dark Shadows on their list of movies to see. Sophomore Sara Smith told me, "I thought the movie was good; Johnny Depp played a quirky character and played it well."
But remember something while watching this movie; every family has its Demons.