Immortals Review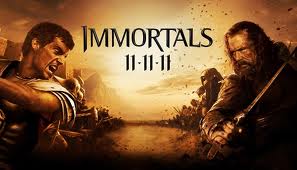 Gabby Tancredi, Sophomore Arts and Entertainment Reviews Writer
November 29, 2011
Like Greek gods, myths and ancient war? Then you should put Immortals on your list of movies to see!
Directed by Tarsem Singh and starring Henry Cavill as Theseus, Freida Pinto as sibylline oracle, and Mickey Rourke as the Power-hungry King Hyperion, this is a movie about a power hungry king who will destroy all who get in his way to get what he wants. But he makes the fatal mistake of underestimating his opponents; this ultimately leads to his down fall.
King Hyperion is hungry for more power. And with the Bow of Epirus (which was lost in the war of the heavens years before), he will have the ability to release the titans, (who have been buried for years), end the rein of the gods, and become ruler of the world. The oracle has a vision of this and fears no one can stop it. On his trail of blood and death, Hyperion comes to the village that Theseus (the hero) calls home. Almost everyone is slaughtered, including Theseus's mother. After the death of his mother, Theseus is determined to find Hyperion, stop him from releasing the Titians, and bringing his death. Theseus is the only one who can stop the blood spill of Hyperion. But he does not go along without help, recruiting the oracle, a fellow slave, and a small army. Theseus aims to kill Hyperion, one way or another. The gods also help Theseus, even though it is against their rules to change the fate of mankind.
Now this is a very bloody movie – in almost every scene there is blood. So if you don't like blood, you might not want to see this movie. The movie also rated R, and most likely won't be liked by everyone. I interviewed one of my friends Becky Dodson; she thought "it was a real 'guy' movie, containing too much action and not enough plot." I thought it had a great story line, was well played, and that the fight scenes in it were amazing. If you like all of those things, Greek gods, myths and ancient war, then Immortals is defiantly a movie for you.