Jack and Jill – Total Disaster?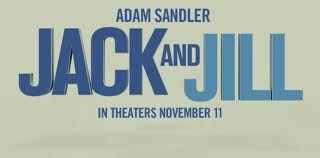 Kyle Guice, Sophomore Reviews Writer
November 28, 2011
Do you like a good comedy to watch with your friends? One that will keep you laughing and quickly becomes your favorite movie? If so, I highly recommend you stay away from Jack and Jill.
Directed by Dennis Dugan and starring Adam Sandler, Katie Holmes and Al Pacino, Jack and Jill will most likely be these actors' worst movie ever. The lack of depth and character is only made worse by the excessive use of poop jokes. Sophomore Lauren Shively said "I wanted to leave in the first five minutes". Jack and Jill is a comedy focusing on Jack Sadelstein (Adam Sandler), a successful advertising executive in Los Angeles with a beautiful wife and kids, who dreads one event each year: the Thanksgiving visit of his identical twin sister Jill (also Adam Sandler). Jill's neediness and passive-aggressiveness is maddening to Jack, turning his normally tranquil life upside down. Katie Holmes plays Erin, Jack's wife. The character Jill is whiney and annoying, causing headaches for adults and laughs for children.
After the comedic disaster Bedtime Stories Adam Sandler should have realized that childrens' movies were not right for him; after this second disaster lets hope he is done. Even though this movie is every teenager's nightmare, it is great for its audience of children. This is the perfect movie to send a child to while you watch another movie across the theater.
So if you enjoy paying $9 for a 1 hour 31 minute headache Jack and Jill is perfect for you. If you don't like screechy characters and bad humor go help yourself and see Immortals instead.