Harry Potter Casts His Final Spell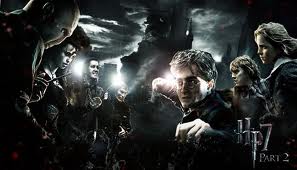 Elisa Mattingly, Reviews Writer
November 28, 2011
Millions everywhere are heavyhearted with the release of Harry Potter and the Deathly Hallows Part 2 and the end to the series many grew up with and adored. It is bittersweet watching the movie and realizing that never again will you experience the excitement and wand-induced action that only Harry, Ron, and Hermione can provide; but they sure know how to go out with a bang! Sophomore Jimmy Angle said he thought that the movie was "good" and that he liked "everything" about it. He and many other fans had nothing but good things to say of the final installment of their favorite series.
Scene after scene of death-defying stunts and that intoxicating feeling that there's no way Harry can survive each new battle thrown his way make this movie that definition of exhilarating. The story of Harry's final battle against Voldemort picks up where the Deathly Hallows Part 1 left off, and follows Harry, Ron, and Hermione on their journey to find and destroy the remaining horocruxes and destroy Voldemort for good. There is never a boring moment with close escapes, near-death experiences, heartbreaking murders, and wizard battle galore. The movie also illustrates continuing romances between many of the characters, some with happy endings and some with heartbreaking finishes. Through the entire movie you can't help but wonder who will survive the battle of Hogwarts and who will win the final showdown between the Chosen One and the Dark Lord.
Fans were quite pleased that the movie followed the book closely, though some scenes did fall short. "It was good, very visually striking. [It] strayed from the book though which was a little annoying," said senior Jesse Everett about the movie. Even though the movie wasn't an exact match to the book, it still included everything that the book was loved for, including some of the most memorable quotes from the book that many fans were worried would not be included in the movie. The loyalty to the book, the amazing action scenes, the love stories intertwined through it all, and an amazing epilogue that shows you how all the characters end up make this movie one of the best in the series. Harry Potter and the Deathly Hallows Part 2 was released on DVD and Blu-Ray on November 11 and is definitely worth purchasing for yourself, so you can experience the action over and over again!