Special Olympics Soccer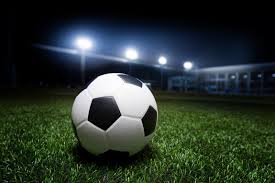 Recently, Leonardtown High School became involved in Special Olympics St. Mary's soccer program. It involves kids in middle school to high school from various schools around the county.  The team learns how to play together in a competitive yet fun environment.   The soccer team has proven to be a special experience for everyone involved.  
The program is a very easy-going, relaxing chance for the students to play. They have very few practices, every Tuesday from 4:30-6 and tournaments a few Sunday's every month. The kids also have volunteer helpers to help them work on their skills and guide them through the game. In the games, the kids are very competitive but the volunteer's try to take it easy so it's a fair game for everyone.   
One of the volunteers, Maddie Weaver had a lot to say about her experience with the program "The kids are very nice and friendly, I really enjoy helping them play a sport they love."  Maddie volunteers and plays midfield for the middle school team.   
This is a very special opportunity for everybody involved.  For the kids, they can have fun and compete against others.  For the volunteers, they have the chance to serve the community and meet people they may have never met.  The team is looking forward to having a successful season this year.