Saying Goodbye to a Legend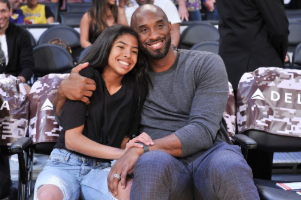 On Sunday, January 26, we said goodbye to an all-time great basketball player, Kobe Bryant, who passed away in a helicopter crash early Sunday morning. There were nine people in the helicopter, including his 13-year-old daughter Gianna. They were headed to Gianna's travel basketball game with the Altobelli family when the helicopter crashed into a hillside. Kobe and Gianna are survived by Kobe's wife, Vanessa, and his three daughters.
Kobe was drafted by the Hornets with the 13th pick in the 1996 NBA draft, but he would later be traded to the Lakers, and the rest is history. He spent all of his twenty year career in Los Angeles, becoming a five-time NBA champion and winning the Finals MVP twice. In the 2008 season, he won his only league MVP and became an eighteen-time All-Star. When he retired, Kobe finished 3rd on the all- time scoring list.
Even people of our generation were inspired by Bryant's work ethic. Diego Buitrago spoke fondly of Bryant saying "Kobe meant a lot to me, he was the first person I looked up to with his mentality and the work he put in throughout his career."
In a social media post, Travis Thomas of NBC Sports Washington reflected on Bryant's impact as a family man. "When I left for work, I kissed my family and told them I loved them. Moments later we lost an icon and I immediately thought back to the last thing I said to them. What happens next is we unite, heal, and make every moment count with are loved ones while we can, #ripmamba."
Kobe will always be remembered as an icon on the court as well as a loving father and husband. He influenced thousands of kids to never be satisfied with what you have, to always go for more, and to keep improving. He taught people to have that "Mamba Mentality", that killer instinct, and that we need to just keep competing. Thank you, Kobe, for 20 years of greatness, 20 years of memories. Rest in peace Mamba.