L-Town on "Avatar: The Way of Water"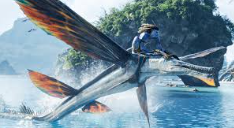 I went around the halls of LHS and got some reviews from some students on the new Avatar movie. Online reviews say that Avatar: Way of Water has a 4.4/5-star review.  Here are some reviews from some students…
Aminta Diop – "I think it was good, the CGI definitely upgraded since the last one. The movie never felt boring although it was 3 hours".
Julia Mattingly – "I thought it was really good. It was long but didn't feel like a long movie. The quality was really nice."
Lillian McCauley – "It was very entertaining, and the 3 hours of watching was worth it."
Kiersten Richard – "It was very long but it was worth it. I thought the movie was very good."
Wow, this seems like a need-to-see movie!