The University of Alabama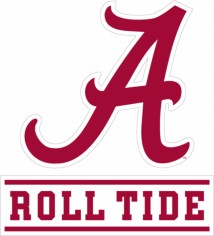 If you're looking for a school in a suburban area, Alabama could be the school for you. The University of Alabama is located in Tuscaloosa, Alabama. The University makes up half the town's population of about 95,000. Alabama is a huge school, with a whopping 37,665 students enrolled.
Big Al the elephant is the University's mascot and you'll probably hear the phrase "Roll Tide!" if you're visiting. Roll Tide is used for everything: toasts, greetings, farewells, football game chants, etc. "Roll tide" is also a rally chant often heard at the University. The colors of the school are crimson and white, which is why the football team is known as "The Crimson Tide".  Another name used for the University is "The Capstone". While at Leonardtown High School capstone is a project completed by Global and International students, at Alabama it is used to describe the school as the high point or pinnacle of higher education. The history of the school is taken very seriously and there are multiple museums to honor and preserve their rich background.
Alabama revolves around sports, especially football. The team is known for having a fantastic record, 14-1 during 2015. They are Division I and they are apart of the SEC. Instead of paying full price for football games, students can get into the football games for only $10.
Although football is a very important aspect of the school's atmosphere, education is a major part of Alabama's spirit. Undergraduate, graduate, law and distance education programs are offered by the college. There are 12 different colleges and schools that foster 80 undergraduate degrees. There are multiple libraries and student support programs to help you achieve your academic goals. With technology a growing part of education, it's crucial to think about what schools have to offer in the tech department. And Alabama doesn't let you down.  At Alabama, your tech needs will be met and exceeded, at every point on campus.
Greek life is integral in a southern school, and Alabama is no different. Greek Life is popular all over the country, but it's taken very seriously in the south. In addition to football, it's also something the campus revolves around. Greek life allows you to connect to similar minded people, have fun with others who enjoy the same activities as you, and get to know new people in a strange and different environment. 11,000 students are members in the 62 fraternities and sororities available.
All in all, Alabama is the perfect school to look at if you're interested in a tight-knit community of people who place value in sports, a strong education, and becoming a family in a home away from home.