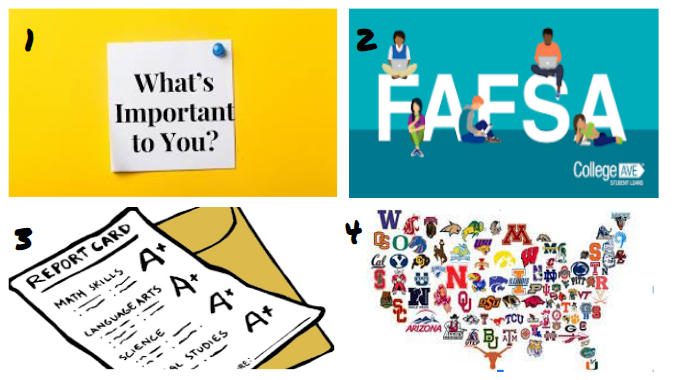 High school isn't easy, students have to work hard and there are a million things to do in order to secure your next 4 years in college. Such as finding a college that is the perfect fit for you. So, in aide here's a list of things to keep in mind during your college search: 
1. What's important to you?
Does location matter? If yes, find out what's around the college and if it's an environment you see yourself in. Does size matter? If yes, look up the school's most recent undergrad population! Sometimes their population includes online students which is why I say look into just undergrads! Does major matter? If you're undecided, try to choose a school which holds a lot of variety in academics so you have options. If you know what you want to major in, make sure they have that! Identify what matters to you the most and where will you thrive? Then continue to find and narrow down your college list based on that! 
2. What's your financial situation? 
Make sure to always keep money in mind! Whether you'd need scholarships or not to attend, if you do just think about that! Everyone's finances are different and they play a huge role in attending a college. Don't look into schools that are way, way out of your price range if you don't think it's possible to pay for it! Also, keep FAFSA in mind, that is a form that you need to fill out no matter what college you go to or what your financial situation is. Sometimes FAFSA can be very helpful considering money. 
3. What are your grades, SAT/PSAT score, and extracurriculars? 
Every college looks for something different in prospective students, they like their students to fit the algorithm that will establish success and attempt to ensure graduation. So look at your grades, your SAT score, and your extracurriculars and compare them to what the school's average requirements for those are. If you have really strong extracurriculars but not strong grades, that's okay! Colleges will be looking at everything and grades/test scores are not all they will see! But make sure when you create your list of colleges to apply to, you have a good mix of options. Look at colleges that might be a reach for you to get into, some on-target schools that match your grades, SAT, etc., and some schools that you absolutely know you will get into! That way you have your hopes, matches, and back-ups lined up for every situation! 
4. College Visits
College visits cost money, especially if they are out-of-state, so choose to visit schools you are truly interested in! Don't waste time, energy, and money on a school that you aren't excited about! Also, consider visiting in-state schools to understand the variety of college campuses, some in-state schools are close enough to be able to take a one-day trip, which is more cost-effective. 
Finding the right college is not easy and it's a lot of pressure, make sure you take time to take care of yourself and stay healthy! Always know that you will end up right where you are supposed to be and everything will fall in line if you work for it!