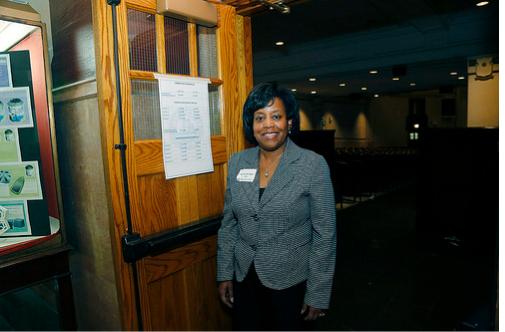 The FLOW mentoring club sponsor Ms. Sharmella Riggs not only discusses and teaches the girls about college plans but is also a P-8A aircraft systems acquisition manager at Naval Air Station Patuxent River.   She conducted a mock job interview with Chopticon High School senior Shannon Aspinall during the Dr. James A. Forrest Career and Technology Center Interview Fair, February 26 2014. As a manager/teacher, Ms. Riggs helps her students in the FLOW club by learning what to do in the real world once their school year is done. She always there to encourage other student girls to become future leaders one day on their career.  Ms. Riggs wants her students to speak up and not be so quiet during the club.
Mr. Mark Smith from the Forest Tech Center commented "how incredibly fortunate to see Ms. Rigg's class being mentored on future life skills." While being in the club I was happy to ask one of the members what they think of the club. "FLOW mentoring has taught me skills to prepare me for my future."  Lauren Santos, 10th grader at LHS, shared her opinion.
Over the last few weeks, Ms. Riggs has taught her students about scholarships, dressing for success, job applications, and resume writing.  She tells her students that if you're going to a meeting of applying for a job you need to wear appropriately.  What a person wears can make a big difference. Clothes describe who the person is and how much they care about this job.  Ms. Riggs also points out the person who's interviewing you will also check a record of what the interviewee has done.  It is best to have a clean resume and record in order to be part of a good job.   Having someone who has a lot of inappropriate images on Facebook, Twitter, or any other social network might not get the job they're applying.
Ms. Riggs is an amazing teacher and sponsor to this club.  She wants other student girls to be prepared for the world.  From all of the students who are participating in this club, they would like to say thank you to Ms. Riggs for making sure we will be ready for what's out there when we graduate.