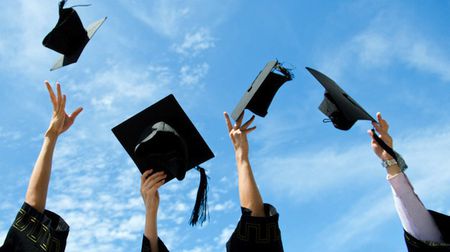 Hey Seniors! Our big day will be here faster than we know it, but are you ready for what's to come? Besides graduation planning, there's also a few other happenings that you will need to prepare for.
We are two months away from graduating. Crazy right? It seems as though we were just freshmen, stressed out about where our classes were and whether we would make it there on time or not. Being that we're two months away from graduating, you're going to want to make sure you're still up to date with school work and paperwork for colleges(scholarships, essays, acceptance,etc.) are in place. We have a lot of things to look forward to that we will only be experiencing one time and one time only. First on the list is prom, which is Saturday, April 6th. Hair, dress/suit, shoes and a date are all things to stress about. You want to make sure you get all your materials and plans for the evening in order so that the best night ever doesn't turn into the worst night ever. It is also traditional to attend after parties, be sure to be safe and responsible. You also want to make sure you buy your ticket on time and if bringing a guest, make sure you turn in your guest form on time. Next is spring break! Spring break is from April 15th to the 22nd. And even though it is a longer time away from school and a trip may be in your mind, you might want to stay home and save for your senior week trip. And right after spring break, it'll be time to start cracking down for graduation.
You want to make sure you're grades are still picture perfect and all your requirements are fulfilled. You may want to start thinking of who'd you want to be attending graduation. You'll also want to purchase your white our black attire to wear under your gown and schedule those makeup and hair appointments ladies!  Be on the lookout for further event dates, such as the senior meeting, to be released and remember, if we do not act our age through graduation practice, we may not be able to walk or decorate our caps.
All these exciting times are coming quick so don't forget to plan accordingly. And being that it's our last year, you're going to want to participate and make the best of it because you may regret not being a part of it. Congratulations to us, the class of 2019!