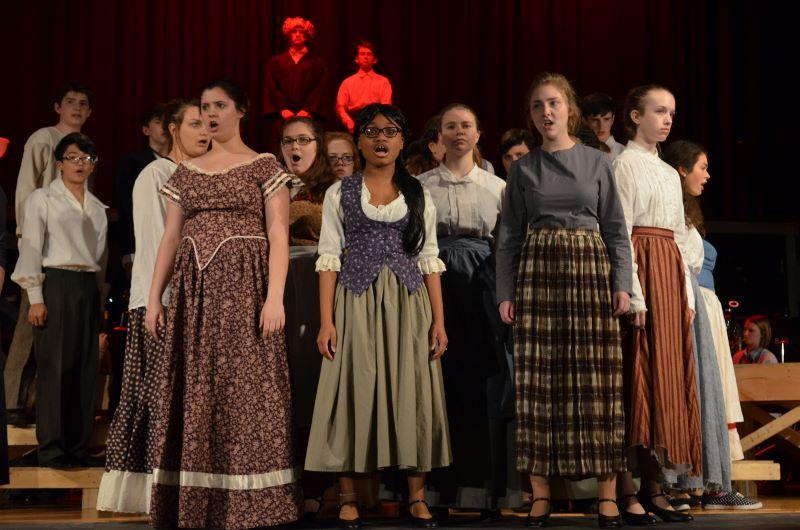 Music. Mayhem. Murder. All of this could only mean one thing. The musical "Sweeney Todd" is coming to Leonardtown High School. Nothing says excitement like a Demon Barber of Fleet Street. There will be suspense, horror, and lots of blood all over the place. Fake blood, of course. This play is going to rock.
Mr. Barbato, biology teacher and director of this play, has agreed to answer a few questions. He will explain what makes "Sweeney Todd" so exciting for other students, how he handles directing actors into doing their part, why students would want to watch this play, and if there's any small details or surprises that he would like to share. "The play is a combination of thriller/drama/dark comedy with a challenging and exciting musical score that makes it a fun and unique experience for all of the students involved." he replied, "The students are given a lot of freedom to develop their characters with our guidance and coaching.  The play has to be rehearsed one part at a time to give the students a chance to learn how to stage each section of the show.  Mr. Tusing has worked very closely with me on this show and has done the majority of staging/blocking.  I have learned a lot from working with him and have had the chance to improve my own directorial skills. It is an exciting show of intrigue, love, and revenge: a mystery/thriller – wrapped in a colorful cast of characters – with suspense and comedy, all in one. As for what might happen in the play, you'll just have to come see the show to find out."
Sarah Dudley, the Costume Mistress for the show, (12th grade), says "Everyone – the cast, crew, and pit band – have all put a ton of effort into the show, and it all really shows! It is an amazing show, and I have had a blast working on it." If you're interested in seeing a thrilling play like this, then come see it in LHS on April 23rd 2015 and/or April 24th 2015 at 7:00pm.  It will also happen at a Matinee at 2:00pm happening this Saturday, April 25th 2015. Tickets are available online at www.LHSTheatre.org. Check the website for more details/information.