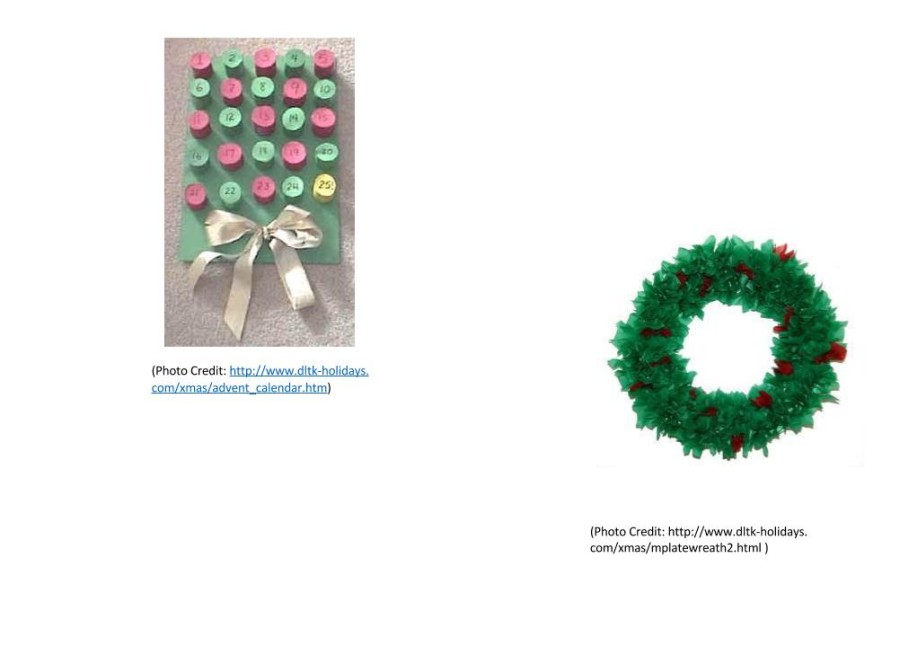 It is that time of year again, families and friends. As the holidays comes around the corner, people everywhere are doing last minute shopping, , and spending time with family and friends. If you are running out of money or you want to get a little creative for your gifts, here are some  craft ideas that you and your friends can do together.
The Christmas Advent Calendar
This calendar basically counts down the days until Christmas. You and your family and friends can break into the cups until it is Christmas Day. It is not hard to make and it is easy and fun to do.
You will need:
toilet paper rolls (13)
scissors
glue
construction paper
black marker
small wrapped candy
Optional:  paint
Optional:  bow
Instructions
Cut all of the toilet paper rolls in half.
Paint the toilet paper rolls or cover them with construction paper.
Cut circles out of construction paper
You can fold the paper in half a few times so you get more than one circle at a time.
Glue a circle onto one end of each toilet paper roll half.
Let it dry.
Drop a small candy into each little toilet paper roll cup that you've created.
Glue a circle onto the top of each toilet paper roll half.
Let it dry.
Use a black marker to write the numbers 1 thru 25 onto the closed toilet paper roll cups.
Tape two pieces of construction paper together to make one large sheet.
Arrange the cups in whatever way you wish and glue them onto the poster board.
If you want to, you can add a bow to make it look pretty.
And there you go, you have your very own advent Christmas calendar. Now break each cup, when each day passes until it is Christmas Day.
Painted Ornaments
Painted ornaments are wonderful and creative ornaments that look nice on a Christmas tree. They last forever and they are a perfect gift for your grandma. Note that you will be painting inside the ornament, not outside.
You will need:
Clear glass ornaments
Different colors of acrylic paint
Newspaper that covers the entire table
Instructions
Wear something like an apron to cover your clothes since acrylic paint will not come off.
Take the top of the ornament off.
Put a few different colors of the acrylic paint into the ornament.
Turn the ornament to the side like the one in the picture. Make sure none of the paint spills since it will ooze around the ornament.
Put in some more paint once the oozing stops.
Repeat step 4.
Let it dry for one day on a newspaper.
Put the top back on once it is done drying.
And there you go. You have your own painted ornament. Just make sure you have a string for the top so you can hang it up on the Christmas tree.
The Reindeer Candy Cane
The Reindeer Candy Cane looks good to eat but it is for decoration e only. It looks cute and you can give it as a gift to any of your older siblings.
You will need:
Candy cane
Hot glue gun
Red beads
Wiggle eyes
Red Ribbon
Red/Brown pipe cleaner
Instructions
Fold the pipe cleaner in half and then twist around the candy cane.
One both sides of the pipe cleaner, bend the zig zags so it would look like antlers.
Just put a small amount of hot glue on the candy cane and make sure the pipe cleaner touches it.
Glue the red bead on the tip of the candy cane and glue the wiggly eyes under the antlers.
Tie the red ribbon around the candy cane.
The reindeer candy cane should be ready to go. The candy cane can be in different colors like brown and green or blue and purple. It does not only have to be red and white.
The Christmas Tissue Paper Wreath
The Christmas Tissue Paper Wreath is just like any other  wreath but it is made by you. You can pattern along this craft and add a picture of any relative or friend to the center. It is perfect for your mom or grandma.
You will need:
Paper plate
Glue
Scissors
Tissue paper in Christmas colors
Instructions
Cut the tissue paper into squares.
Cut the center out of the paper plate to leave a round shape.  This will form the wreath's base.
Then wrap all of the squares of tissue paper over the top of a pencil, dip in glue, and stick it to the paper plate.
Continue the entire plate filled with tissue to create your wreath.
You can also use other colors of tissue paper if you desire. You can further decorate it by adding some red or silver glitter glue. It would make the Christmas Tissue Paper Wreath look sparkly.
Christmas is coming and there is not that much time left. Get creative and show your holiday spirit. Plus your friends will appreciate it if you made a Christmas craft for them since it is made by you. Also you are going to money by making some of these instead of going to a store and buying Christmas stuff. So get creative and do not go overboard when it is Christmas time. You will not regret it.