Helping the Hungry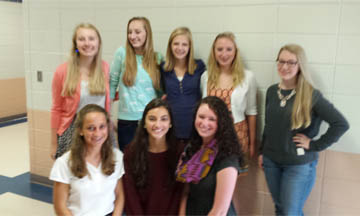 Marcus Williams, Senior Staff Writer
September 29, 2014
You probably have noticed cans and boxes around your classrooms labeled "Harvest for the Hungry" recently. It's that time of year again where the SCA, led by Mr. Byrnes, accepts donations from students to send to food banks around St. Mary's County. This harvest helps those in community who struggle and can't manage to buy the food necessary for their survival. According to the Maryland Hunger Solutions website (www.mdhungersolutions.org), 10.1 percent of Maryland residents live in poverty. More locally, St. Mary's County has a poverty rate of 7.6% and a childhood poverty rate of 10.5%.
These numbers mean that there are plenty of families that need help and there is action that needs to be taken. That's exactly where Harvest for the Hungry comes in. In last year's program, our school provided approximately 424,000 pounds of food and $121,428.18. All that generosity translated to meals for 276,000 people. If this sounds intimidating, remember that a donation of any size matter. $1 can supply 8 pounds of food for a family in need.
Also, if wearing a sense of pride knowing that you helped people eat isn't enough, then you can take comfort in knowing that donations are tallied by graduating class and counted in the LHS spirit stick competition. Spirit week is just around the corner, October 6th through the 10th to be exact. Your donations can push your class ahead of the reigning seniors, and if you are a senior, then this is the perfect chance to protect our title and give back to the community.