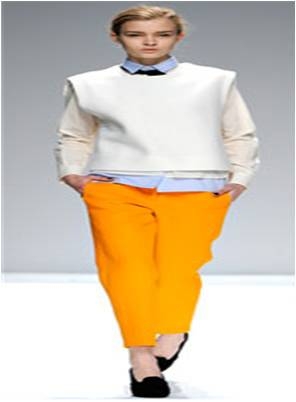 Finally, the looks the world ogled back in February are available in stores and the Fall 2011 fashion season has officially begun! Through bright colors and chic fabrics and prints, designers "wowed" the fashion community show, after show. But many of us are still a little bit unsure about how to transfer those fashion forward pieces into our everyday lives. There are the much easier trends to incorporate into your wardrobe including the chunky sweater, the mix of gold and silver, and the new obsession with booties. But which of the more complicated outfits from the runway can actually be recreated and which should be left to the pros?
One of the easiest looks to recreate from the fall runway was the return of brightly colored pants. The tailored bottoms debuted on models wearing them with neutral, more muted tops to make the pants the main focus of the outfit. Personally, I am over this trend. I think it was overdone a few years ago when neon colored skinny jeans took over the shelves, but it's definitely easy to incorporate into your closet. "I wouldn't wear them but I do think they look good on some people," says sophomore Emily Whetstone. This trend is not for everybody, but if you have what it takes to rock this trend then all you need is a pair in your favorite color with a neutral top, and black shoes.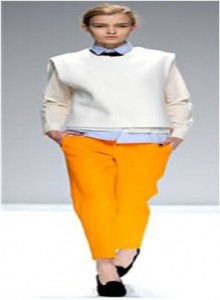 Another simple trend you can play around with is the color of your entire outfit. Since last summer's all white ensembles were a huge hit, designers have experimented with other all-one-color outfits and, in my opinion, have struck gold. The rich, deep blue inspired by artist, Yves Klein, have totally taken over the runway, and will definitely help you stand out against the golds and reds of Autumn. "I love this color and as Mrs. Montgomery would say, go Raider's nation!" says sophomore Anna Hill. The color definitely emits a sense of school pride and is the perfect color to wear on spirit day. Pick up a dress or skirt in this bright color the next time you go shopping and pair it with some killer shoes and you're ready to go.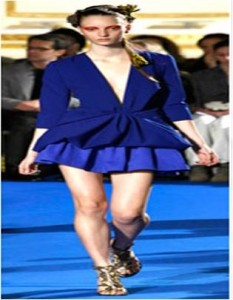 Simple, cute, and fool proof, this season's obsession with graphic stripes is great news. Just by wearing a shirt or dress with oversized stripes makes the best kind of statement. Pair a top with jeans or a skirt and you'll definitely stand out. "I would wear that trend as a shirt but nothing else!" says freshman Ayanna Weems. I can't say I totally disagree with her. The largeness of the print can be a bit intimidating but it ends up looking extremely chic. I honestly was never a fan of horizontal stripes until this season with the whole "it makes you look wider" claim, but this season's big fashion statement is the perfect add-in for your closet.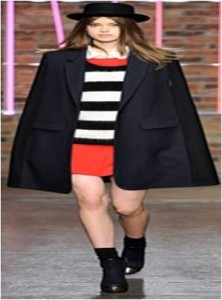 Though there were many amazing trends this season, there were also a few new pieces that I just will never understand. This includes designers' new love of making outerwear, well, ugly. I would never go out in a public wearing a poncho, especially one with fur. "Why would I want to look chunky?" says Hill. And she's quite right. Isn't fashion about what's flattering to your body? What makes these monsters so chic? "It doesn't even have a purpose, it's just hanging there looking weird," says sophomore Brooke Jantzen. It doesn't look like the poncho trend is going to catch on this season. The hideous outerwear continues with western style duster jackets and unbecoming plaid tartans. I just don't understand how anyone could possibly look cute in these outfits. But if you want to prove me wrong, feel free.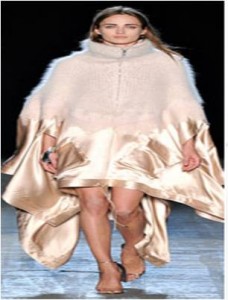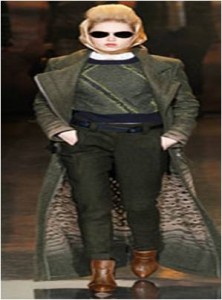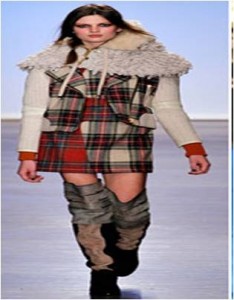 These are obviously not all of what the 2011 Fall fashion runways had to offer or what the fashion magazines are going to declare "in." I could go on forever discussing shades of crimson, mid-calf skirts, high slits, leather skirts, and tuxedo trends, but this would get us no closer to understanding the minds of high fashion designers, though we can always try right?