Fall Fashion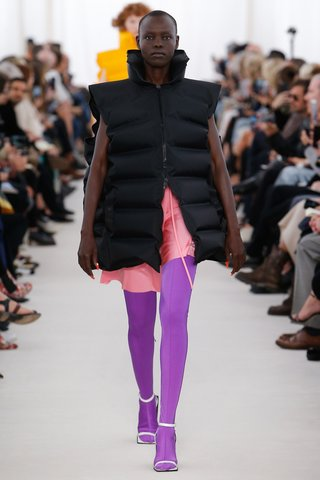 The leaves have turned, the air is crisp, and sweaters have returned. Yes ladies and gentlemen, fall is here! I'm sure you are wondering what should be featured in your fall wardrobe, so here is your fall style guide for the upcoming season!
Now ladies, I'm sure you all remember bright colored tights from your childhood, and for you fashionistas who wear them now, kudos. But, did you know you could incorporate them into your fall fashion? Recently, Céline's Phoebe Philo, Balenciaga's Demna Gvasalia, and Valentino's Pierpaolo Piccioli have all put designs on the runway incorporating the iconic brightly colored tights that the fashion world will catch onto soon. According to Vogue, the trend is so vibrant and fresh because the tights are paired with rather basic, straightforward clothing. For example, at Carven, a sweater and mini skirt were made flashier by the addition of a pair of violet tights. With this bold new trend, Vogue believes that "being left of center feels so right."
Overall, on recent runways, one of the biggest fall trends seems to be textures. Fabrics such as brocade, patent leather, velvet, and shearling, presented earlier this year in February and March, are in high demand and seemingly taking over stores. For those of you new to the fashion scene, brocade is a rich, silk fabric embroidered with a gold or silver thread. Shearling is fabric made from wool, usually a coat.
Vogue says that there are 12 major style trends that have swept the runway this season. These include: puff daddy, velvet goldmine, menswear's new movement, interior motives, and many more!
For those of you who want the designer look but can't always afford it (I can't relate because I don't speak broke), here are some tips from Vogue's ultimate guide to shopping fall fashion on a budget! There are many stores that copy, or are "inspired by" certain collections as soon as they hit the runway. They can be made with cheaper fabrics, making the overall price of the clothing more affordable. For example, if you are going for the newly trendy tapestry look, rather than getting the clothing from high end fashion houses, you can purchase individual items from stores such as Zara and H&M, joefresh.com, and mango.com. The clothing is made with similar designs and can be purchased for a much cheaper price.
Now, because you have read this article, I expect that looks and only looks will be served from here on out. You have been given the scoop on the trends of fall 2016, so with that in mind, go out there, be the beautiful person you are, and be bold and daring! Werk, serve, and looks only!
XOXO,
Michael Miles