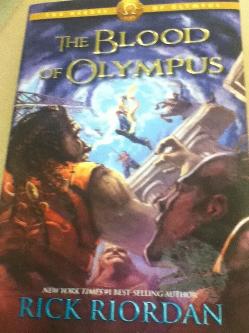 What do you think of when you hear the words "Greek gods"? Maybe you think about Zeus, the god of the sky. Maybe you think about Aphrodite, goddess of love, or Poseidon, god of the sea. Maybe you're not even familiar with Greek mythology. But upon hearing these words, many young readers think of the Percy Jackson and the Olympians series.
Rick Riordan's hugely popular series about a modern world where Greek gods exist has sold over twelve million copies and has been translated into thirty-four languages so far. All five books were published between 2005 and 2009, and movies based off of the first two books were released in 2010 and 2013. When Riordan's son was young, he would ask him to tell bedtime stories about the Greek gods. Eventually, he ran out of myths to tell, and his son told him to make up a story. Off the top of his head, Riordan made up his protagonist Percy Jackson and his quest to retrieve Zeus' lightning bolt. Riordan's son enjoyed the story so much that he told him to make it into a book, and thus the Percy Jackson series was born.
Naturally, to keep his fans satisfied, Riordan couldn't end there.  In spring 2010, The Red Pyramid, the first book in The Kane Chronicles, was released. Instead of focusing on Greek gods, Riordan wrote this trilogy about Egyptian gods in the modern world. The last two books in the series were released in 2011 and 2012. In fall 2010, The Lost Hero, the first book in the Heroes of Olympus series, was released. The Heroes of Olympus series is a Percy Jackson spin-off series featuring both familiar and new characters, including Roman gods. Riordan is going on tour for The Blood of Olympus, the last book in the Heroes of Olympus series, in cities across the United States and Canada starting on October 7.
Why are Riordan's books so popular with young readers? In the words of sophomore Kaitlin Beasley-Polko, "They give you a good insight into the culture of the Greeks and Romans, and they give you information about the Greek gods." Aaron Hines thinks that Riordan's most well-known series, the Percy Jackson and The Olympians Series, is so popular because the main character "talks to the reader" and makes the reader feel as if they were there, in the middle of the action. Perhaps Riordan's books are so popular simply because they're different from most teenage literature today. Although there are plenty of fantasy books out there, not many focus on mythology in the twenty-first century.
The Blood of Olympus, the last book in the Heroes of Olympus Series,was released on October 7. It was the most-talked-about book on social media in August 2014. Hopefully the conclusion to the series won't disappoint—many faithful fans have been waiting for this release for a year.